How to See Tonight's Lunar Eclipse and Full Strawberry Moon
On Friday night, there will be a penumbral lunar eclipse, accompanied by a full "Strawberry Moon."
According to NASA's website, the strawberry moon will appear around 3:12 p.m. EDT and will be visibly full into Sunday morning. The moon will also cross part of the Earth's shadow, making it a partial penumbral eclipse of the moon.
Space.com reported that unfortunately most viewers in the Eastern hemisphere will not be able to to see the eclipse, as it will happen between 1:47 p.m. and 5:05 p.m. EDT, which is when the moon is below the horizon for much of North and South America. The eclipse will reach it's max at 3:25 p.m. People on the East coast of South America, Western Africa and Europe will be able to see it at moonrise. People in Japan and New Zealand will be able to see the eclipse at moonset, while it will be visible for whole time in the Middle East, Eastern Africa, Southeast Asia and Australia.
While it is disappointing that most of the Americas will miss the eclipse, NASA's website says that the "slight dimming" won't be noticeable without proper equipment. While it may not be visible on earth, spacecrafts like the Lunar Reconnaissance Orbiter will have a noticeable reduction in solar power. Space.com said that even though the eclipse may create a glare if viewed with a telescope or binoculars, it does not pose a threat to one's eyesight.
Even though it may be difficult to see, there is a virtual telescope in Rome that you can use to view the eclipse.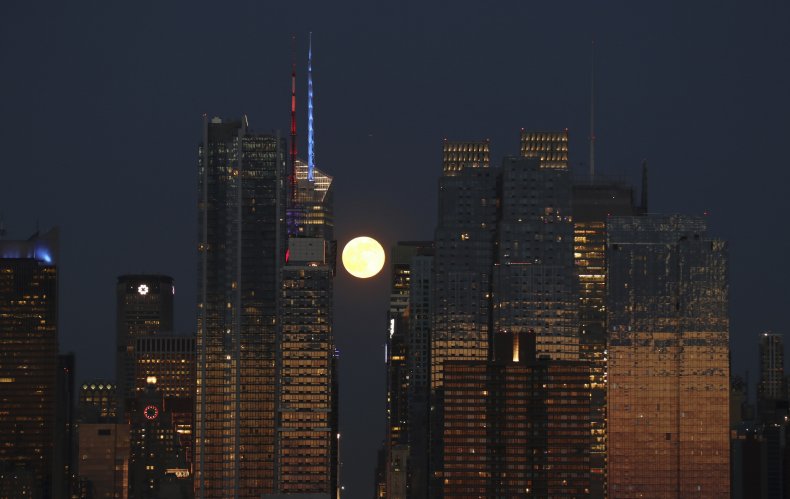 NASA's website announces that there are many alternative names for the "Strawberry Moon." A European name for the moon was either the "Mead Moon" or the "Honey Moon," as it's named after the alcoholic beverage made from fermenting honey. NASA says that the term "honeymoon," may actually be linked to this type of full moon "either because of the custom of marrying in June or because the 'Honey Moon' is the 'sweetest' Moon of the year."
A few other titles for this moon, according to NASA include "rose", "planting", "flower", "hoe", and "hot."
The name "Strawberry Moon" supposedly originates from Algonquin Native American tribes, due to the moon lining up with the Northeastern U.S.'s short period to harvest strawberries. According to NASA, the Maine Farmer's Almanac began including Native American names for the various full moons, beginning in the 1930's.
While this eclipse won't be visible from most of the Americas, according to NASA's skycal eclipse calendar, the next one will be. That penumbral eclipse falls on July 5 and the entire eclipse will be visible throughout all of South America and most of North America.