How to Watch Disney's 'Jungle Cruise'
Disney is releasing Jungle Cruise, based on the Disneyland Resort ride of the same name, on July 30. The story is brand new for the movie and features a scientist enlisting the help of a riverboat skipper to take her on a very important voyage.
Of course, the adventure sees them face some terrifying foes, not to mention difficulties presented by the Amazon, whether that be Indigenous tribes, roaring rapids and other fantastical opponents.
The movie is coming out not just in movie theaters, but also online.
How To Watch Disney's Jungle Cruise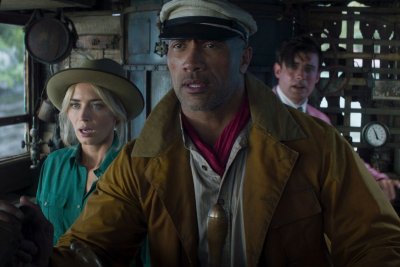 Jungle Cruise is out in movie theaters on July 30, meaning fans can grab their popcorn at the counter and enjoy the film on the big screen.
However, like many other films from Disney at the moment, the movie is actually being released simultaneously on the streaming service Disney+.
This means fans can also choose to watch the movie at home, or gather friends together to enjoy it without going into the city.
To watch the movie on Disney+, you need a subscription which starts at $8 a month, but you also need to pay for Premier Access as the movie is not being released straight onto the platform. To watch via Premier Access, subscribers will have to pay an extra premium.
This premium is $29.99, so it may be worth bringing together quite few friends to split the purchase.
Previous movies released in this way, such as Mulan, were eventually released on the main platform to be watched as part of the usual subscription.
In the case of Mulan, it was released on Premier Access two months before it was then released on the platform for all subscribers.
As a result, this would suggest Jungle Cruise could be released on Disney+'s usual platform at the end of September.
Who Is In the Cast of Jungle Cruise?
The cast of Jungle Cruise is led by Dwayne "The Rock" Johnson, who plays the riverboat skipper Frank.
Frank's origins are murky at the start, but more is revealed about his character as the film goes on.
His quiet life is interrupted by Dr. Lily Houghton, played by Emily Blunt and her brother, MacGregor, played by Jack Whitehall.
They are going in search of the Tree of Life, from which legends have sprung.
These legends speak of petals which heal any ailment, and after years of being shunned by the scientific community, Dr. Lily Houghton hopes a find of this kind could heal millions.
But they must contend with Aguirre, played by Edgar Ramirez, an ancient soldier who was cursed to remain on the land, as well as a crazed German aristocrat Prince Joachim, played by Jesse Plemons, who wants the tree's delights for himself as part of the war effort.
Support characters such as riverboat magnate Mr. Nilo is played by Paul Giamatti, science society head Sir James is played by Andy Nyman, and Indigenous tribe leader Trader Sam is played by Veronica Falcon.
Jungle Cruise is out in movie theaters and on Disney+ on July 30