How to Watch Katy Perry Perform 'Daisies' for the First Time
Singer Katy Perry is set to release "Daisies"—the first single from her upcoming fifth album—on Friday, and fans can tune in to watch her perform the track for the first time on Amazon.
The "Dark Horse" singer-turned-American Idol judge has been teasing the song for nearly a week, and on Wednesday she revealed that she's going to participate in a performance and fan Q&A on Amazon Live on Friday.
In a tweet, she wrote that fans can ask questions by responding to the tweet and could watch on Amazon Live on Friday at 10 a.m. PT (1 p.m. ET) to see Perry's debut performance of "Daisies."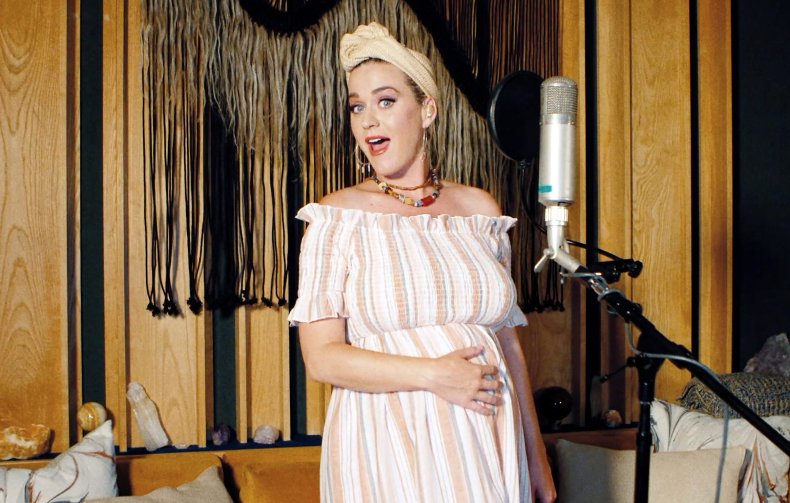 With "Daisies" hitting streaming services on Friday, Perry has taken a number of steps to promote the single's drop. The singer has launched a virtual flower shop, called Katy's Daises, where fans can send digital bouquets to their loved ones with personalized messages via Facebook, WhatsApp, email or Instagram for free. The site features 12 different bouquet selections, beautifully illustrated for the project.
"Our goal is to provide the best virtual flower delivery service that can help you tell someone you care, you love them, you miss them, or simply thank them for believing in you," the website reads. "Select a bouquet you wish to share and write your personal message to go along with it. We're sure you'll be able to find the right bloom for just about anyone!"
Perry's shoe collection also contains a pair of sandals featuring daisies. In early May, the singer tweeted out images of the sandals with a message that 10 percent of each sale would be donated to Baby2Baby to help families and children that have been affected by the coronavirus pandemic.
While Perry is calling "Daisies" her new album's first single, the singer has released a handful of standalone singles since 2017's Witness: "Never Really Over," "Small Talk," "Harleys in Hawaii" and "Never Worn White." Perry also used the music video for that last tune to announce her pregnancy.
As previously reported, fans have speculated that the upcoming single is a collaboration with fellow pop star Taylor Swift, now that the two have publicly ended their long-standing feud. Back in 2018, Perry sent the Lover songwriter an olive branch—in the form of a literal olive branch. Swift then sent Perry a plate of cookies and later invited her to appear in her "You Need to Calm Down" music video. Shortly after Perry first announced "Daisy," Swift posted a photo of herself on Instagram wearing a daisy sweater.