How To Watch the Lighting of the Rockefeller Center Christmas Tree
Despite all the uncertainty that has encompassed 2020, the Rockefeller Christmas Tree Lighting Ceremony will be happening this December! The TODAY Show revealed that the show will go on, but with coronavirus safety measures in place.
To curb the spread of the virus, there will be no public access to the tree in Rockefeller Plaza the night of the ceremony. You can tune in at 8PM on Wednesday night, and watch the "Christmas in Rockefeller Center" national broadcast at home on NBC.
TODAY Show anchors Savannah Guthrie, Hoda Kotb, Craig Melvin, and Al Roker will host the two-hour event. Stars such as Dolly Parton, Kelly Clarkson, Gwen Stefani, Earth Wind and Fire, The Goo Goo Dolls, and Leslie Odom Jr. Pentatonix will perform throughout the evening's event. The cast of Broadway's Tony-winning musical "Ain't Too Proud," along with the Radio City Rockettes are also slated to perform.
Whether these performances will be pre-recorded or take place at Rockefeller Center remains unclear. Newsweek reached out to NBC for comment.
An hour before the show, people can tune in from 7 to 8 p.m. EST for a "live hour of special performances" on NBC and their affiliate stations. Access Hollywood's Mario Lopez, NBC4 New York's Natalie Pasquarella and David Ushery will be hosting the pre-show to the Christmas Tree lighting.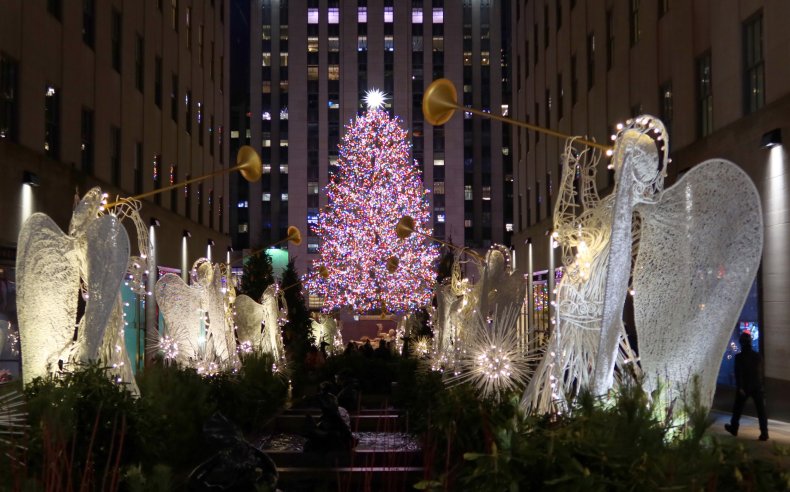 The 11-ton, 75-foot-tall Norway Spruce arrived at Rockefeller Center from Oneonta, upstate New York on November 14. It will be trimmed with 50,000 multicolored LED lights and topped with a giant Swarovski star, shining bright as ever.
Upon the tree's debut in Midtown Manhattan, it got tons of social media attention. Many likened it to Charlie Brown's sad looking Christmas tree, while others said it was an accurate depiction of the year that is 2020. It also had an owl hiding in its branches. The feathered creature, named Rockefeller, was sent to Ravensbeard Rehabilitation Center in Saugerties after his big adventure.
But don't worry, you can still keep up Rockefeller on his Twitter account. Because of course he has a Twitter account.
The first ever tree lighting ceremony in Rockefeller Center took place in 1931, and has been broadcast annually since 1951, according to NBC. Typically, the tree-lighting ceremony is held the Wednesday after Thanksgiving.
Folks can visit the Christmas tree every day from 6 a.m. EST to midnight. On Christmas Day, the area surrounding the tree will be open for a full 24 hours for some magical (and socially distant) memories.