How to Watch, Live Stream Biden Update on COVID-19 Strategy After Omicron Detected
President Joe Biden will unveil his updated strategy Thursday to combat COVID-19 this winter but denies it will involve more lockdowns.
Biden's new plan comes as America deals with its first Omicron COVID-19 case that was detected in California Wednesday. The president said earlier this week that the strategy will include an increase in initial vaccinations as well as booster doses and spikes in testing.
The president is scheduled to speak about his new strategy at 1:30 p.m. ET Thursday. The White House will have a live stream set up on its YouTube channel where people can tune in for his remarks.
It's also likely that C-SPAN will live stream Biden's comments, although it wasn't listed on the schedule yet.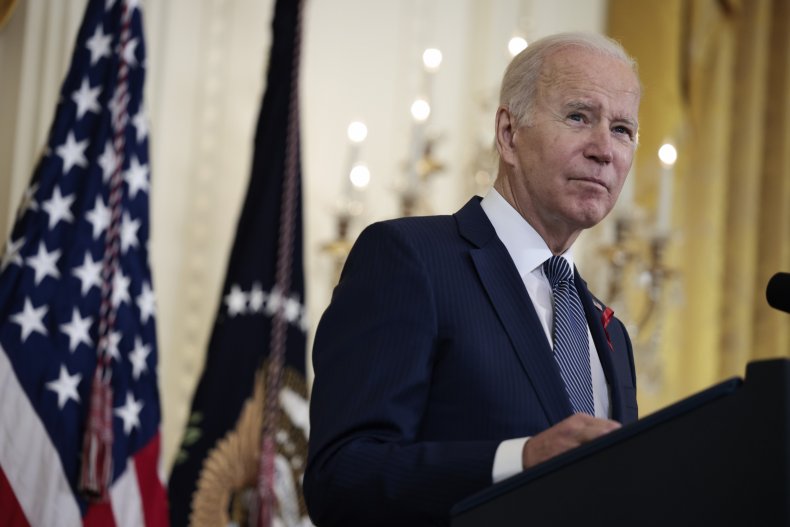 Biden, who campaigned heavily on being the person to lead America through the pandemic, is facing an increasing COVID death toll, spikes in cases, and a new variant. The United States has seen more coronavirus fatalities in 2021 than 2020, and hospitals continue to be overwhelmed with influxes in patients.
The continuing pandemic has also taken a toll on Biden's approval rating while Americans' confidence in him to handle the crisis has started to dwindle. Only 48 percent of people support his handling of the pandemic, according to FiveThirtyEight—a significant decrease from the over 60 percent who approved the job he was doing in May.
With an increase in vaccinations in the spring, states began loosening restrictions. However, cases started to rise over the summer, prompting states to reinstitute mask mandates. And even states with high vaccination rates are starting to feel the impact of the winter COVID-19 surge.
The arrival of the Omicron variant could exacerbate a surge that's already expected to hit the United States in the coming months. While researchers continue to study Omicron to determine the true threat it poses, its mutations are associated with increased transmissibility and the potential for the new strain to resist vaccines and treatments.
White House COVID-19 Response Coordinator Jeff Zients said the administration is prepared to "meet this challenge with science and speed," and urged everyone to get vaccinated.
"This new variant is cause for continued vigilance, not panic. We know what it takes to limit the spread of COVID: Get vaccinated, get boosted, and take public health measures like masking and distancing," Zients said.