How to Watch, Live Stream DNC Day 3 Featuring Kamala Harris, Barack Obama and Hillary Clinton
Kamala Harris is expected to formally accept the Democratic Party's vice presidential nomination on Wednesday, the third day of the Democratic National Convention (DNC).
Presumptive Democratic presidential nominee Joe Biden announced Harris as his running mate pick last week. Earlier in the election season, Harris ran against Biden for the party's nomination, but suspended her campaign in December.
If the duo wins the election on November 3, Harris would become the first Black woman and the first Asian-American vice president in U.S. history.
The DNC's penultimate night will also host speeches by former President Barack Obama, former Secretary of State Hillary Clinton, and House Speaker Nancy Pelosi.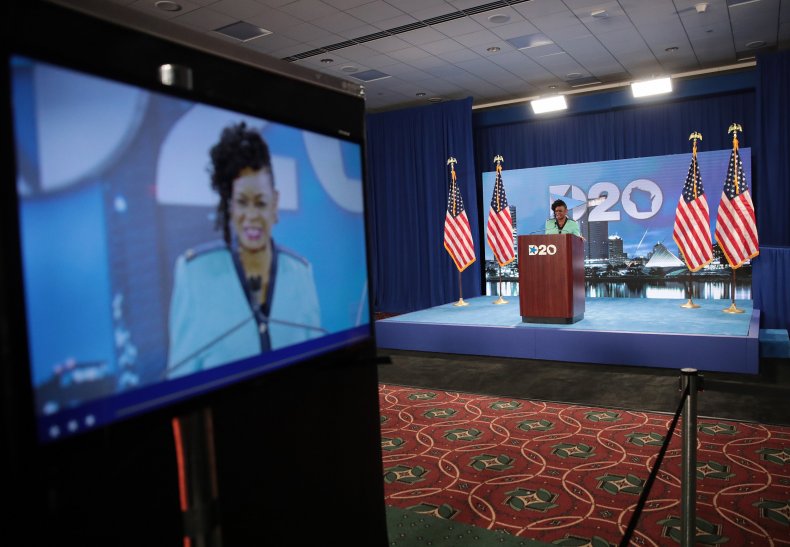 The convention began on Monday in Milwaukee, and will conclude on Thursday evening when Biden is expected to formally accept the party's nomination. Each day of the convention is packed with council and caucus meetings before the formal speeches are delivered during a series of two-hour time blocks between 9 and 11 p.m. ET each night.
The first two days of the convention were marked by speeches from several high-ranking political voices, including former First Lady Michelle Obama; former President Bill Clinton, former second lady Jill Biden; and Vermont Senator Bernie Sanders, the last Democratic competitor in the 2020 presidential race who suspended his campaign and endorsed Biden in April.
Harris is expected to deliver her speech during the 10 to 11 p.m. ET block, according to the DNC's Wednesday schedule. Obama's speech will follow, the schedule says.
Before Harris and Obama are due to speak, the convention will also welcome speeches from Massachusetts Senator Elizabeth Warren; Wisconsin Governor Tony Evers; New Mexico Governor Michelle Lujan Grisham; and former Arizona Congresswoman Gabrielle Giffords.
Pelosi will also speak during the first hour, as will Clinton, who was the last Democrat to formally accept the party's nomination at the 2016 DNC in Philadelphia.
Performances from musicians Billie Eilish and Jennifer Hudson are expected between the speeches during the first hour.
Most of this year's DNC speeches and events are happening virtually due to the continuing threats posed by the coronavirus pandemic. With so many of the festivities taking place online, the Democratic National Committee announced earlier this month it would provide convention participants and members of the public with several ways to tune in from afar.
Those who are interested in watching Wednesday night's speeches can do so starting at 9 p.m. ET on the convention's website or on its Facebook, Twitter, YouTube and Twitch accounts. Viewers can also access the speeches on Amazon Prime Video or by using the DNC app on Apple TV, Roku and Amazon Fire TV. Television providers AT&T U-verse, DirecTV, Comcast Xfinity X1 and Comcast Xfinity Flex will also broadcast each night's speeches.