How to Watch, Live Stream Donald Trump's NBC Town Hall in Place of Debate
President Donald Trump will participate in a town hall Thursday hosted by NBC News in Miami, in place of another debate between him and Democratic presidential nominee Joe Biden.
The event will be moderated by Today co-host Savannah Guthrie, who will direct a conversation between Trump and Florida voters. It will take place outdoors at the Pérez Art Museum.
Those interested in watching the town hall can tune into NBC at 8 p.m. ET. It will also be available on MSNBC, CNBC, NBC News Now and Telemundo's online platforms. A livestream can also be accessed on NBC's YouTube channel.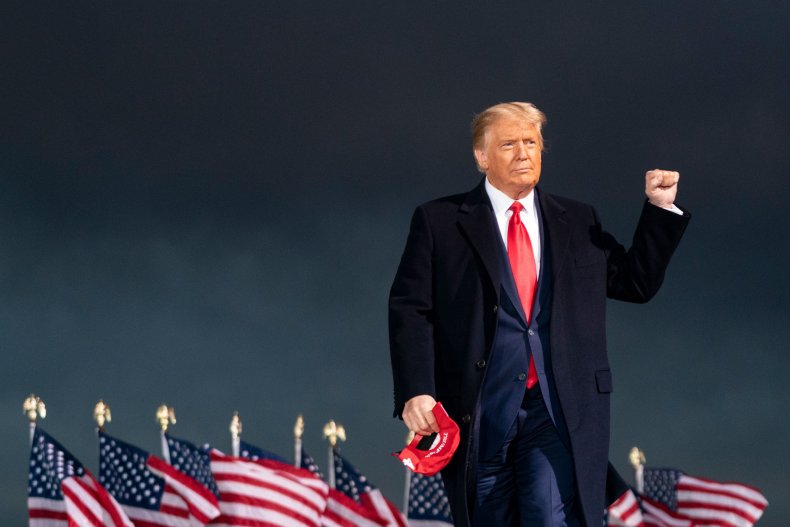 NBC officially announced the event on Wednesday, days after the Commission on Presidential Debates (CPD) cancelled what was meant to be the second presidential debate between Trump and Biden.
"On October 8, CPD announced that for the health and safety of all involved, the second presidential debate, scheduled for October 15 in Miami, would be conducted virtually," the commission said in a statement. "The campaigns of the two candidates who qualified for participation in the debate made a series of statements concerning their respective positions regarding their willingness to participate in a virtual debate on October 15, and each now has announced alternate plans for that date."
The CPD first announced that the October 15 debate would take place virtually after Trump, his wife Melania, and multiple other people in the president's orbit had tested positive for COVID-19.
But Trump refused to participate in a virtual debate, commenting during a phone-in interview with Fox Business host Maria Bartiromo on October 8 that he was "not gonna waste my time."
"That's not what debating is all about," Trump said. "You sit behind a computer and do a debate, it's ridiculous. And then they cut you off whenever you want."
The Trump campaign suggested pushing back the final two debates to be held on October 22 and 29, with the last one taking place just four days before the November 3 election. But the CPD rejected the request, and the final live debate between the two candidates will take place October 22, as originally planned.
Both Biden and Trump have announced their intent to host separate town halls on competing networks at the same date and time in lieu of the second debate. Biden's event will air on ABC at 8 p.m. ET Thursday, where he will speak with Good Morning America co-host George Stephanopoulos in Philadelphia.
Trump's town hall at the museum in Miami will take place outside, and participants will be placed at least 12 feet apart, NBC said in a statement. The audience will also be required to wear face masks—a precaution that members of Trump's family ignored during the first debate.
NBC's decision to host the president at the same time as Biden's event angered members of the media and the activist community on Wednesday, with many taking to social media to express their dismay.
Vivian Schiller, a former NBC News executive, tweeted: "The point of a news organization is to serve the public. This is the opposite. @NBCNews could literally run this any other day, or any other time. Shameful."