How to Watch, Live Stream Donald Trump's Pennsylvania Rally on Thursday
President Donald Trump is holding his latest campaign rally in Latrobe, Pennsylvania on Thursday evening. He is expected to deliver remarks from Arnold Palmer Regional Airport at the event scheduled to begin at 7 p.m. EDT.
Doors will open at 4 p.m., but those tuning in from home can register for free livestream tickets through the campaign website.
This is the president's first visit to western Pennsylvania since late last year when he spoke to the Marcelus Shale Coalition at the David L. Lawrence Convention Center in Pittsburgh.
The battleground state will play a key role in November's general election with the Pennsylvania's divided electorate. In 2016, Trump won all 20 of the state's electoral votes.
His visit comes three days after Democratic presidential nominee Joe Biden's campaign stop in Hazelwood on Monday, in which Biden blamed Trump for the ongoing civil unrest across the nation and highlighted the president's failure in handling the coronavirus pandemic.
"He keeps telling us if he were president you would feel safe. Well he is president, whether he knows it or not. Does anyone think there will be less violence in America if Donald Trump is reelected?" Biden asked.
"I want a safe America — safe from COVID, safe from crime and looting, safe from racially motivated violence, safe from bad cops. And, let's be crystal clear: safe from four more years of Donald Trump," the former vice president added.
Unlike Trump's scheduled rally, Biden's event was not open to live audience members due to the ongoing global health crisis.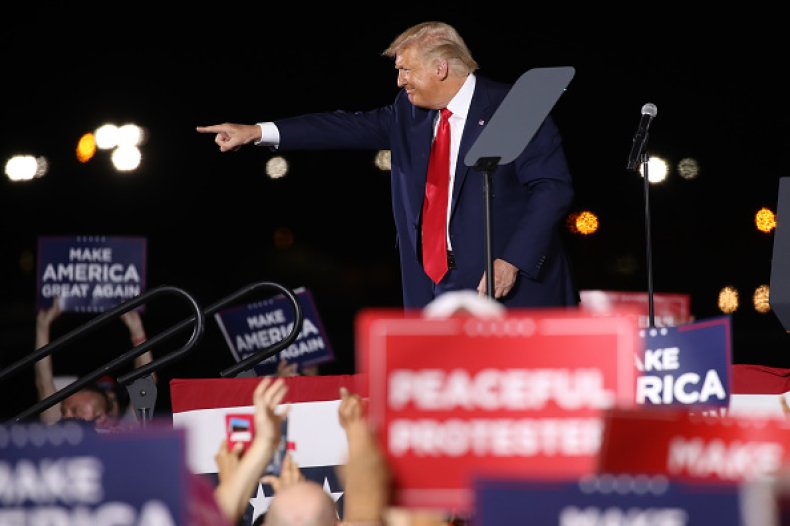 Biden also addressed Trump's upcoming rally in a statement released Thursday.
"When President Trump speaks in Westmoreland County today, you almost certainly won't hear him take responsibility for the economic hardship his presidency has caused Pennsylvanians," Biden said.
"President Trump's mishandling of the economy and the coronavirus pandemic has caused millions of people across the Commonwealth to file for unemployment since March, has led to a staggering unemployment rate of 13.5% in Westmoreland County, and caused nearly 8,000 Pennsylvanians to lose their lives from the virus," Biden added. "But even before this crisis began, President Trump's reckless economic policies and tariff wars shipped jobs overseas and lined the pockets of CEOs, while leaving Western Pennsylvania workers and families behind."
This is the first full week of campaigning for both Trump and Biden since the candidates received their parties' formal nominations at their respective national conventions.
According to the president's reelection campaign site, his next stop will be in Winston-Salem, North Carolina on September 8.