As President Donald Trump continues his campaigning for re-election, he is set to make his next stop at a hangar near MBS International Airport in Freeland, Michigan, where he will deliver remarks.
Viewers can register to watch the live stream of the rally through the campaign website. The event will begin at 7 p.m. on Thursday.
This is the president's first campaign event in the battleground state since his rally in Battle Creek late last year. That rally occurred on the same day that the U.S. House voted to impeach him.
His last visit to the state, in May, was not a campaign event. It caused controversy after he toured a Ford Motor plant in Ypsilanti without a face mask during the height of the nation's coronavirus outbreak.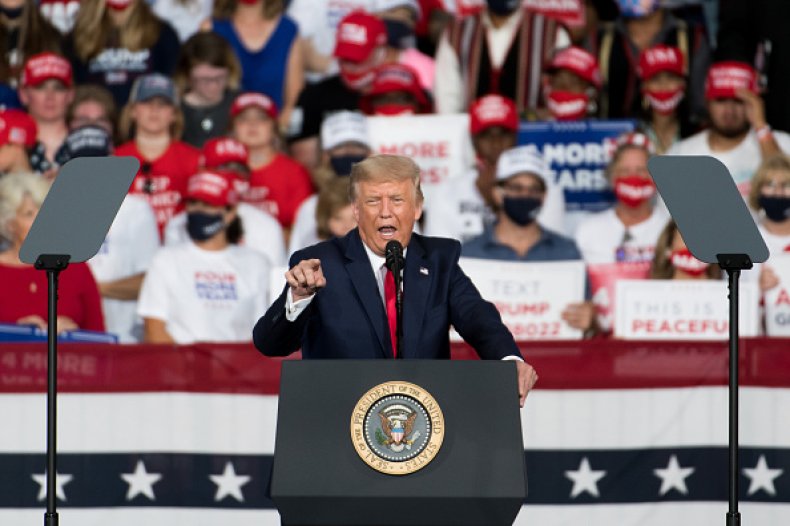 In July, Trump had said that he wanted to hold a "big rally" in Michigan but that Democratic governor Gretchen Whitmer's social distancing restrictions prevented him from doing so.
Whitmer called Thursday's scheduled event "very distressing" during a Tuesday appearance on CNN.
"We anticipate that he will be descending on this state and perhaps encouraging people to come maskless," Whitmer told CNN's Anderson Cooper. "I would love to see the leader of our country embrace masks and encourage people to do the right thing."
She added, "I don't doubt that there will be people who want to show up at that event and will take the lead from the man himself and drop their guard and could subject themselves to COVID-19."
The governor said she did not have the same concerns about Joe Biden's Wednesday appearance in Michigan, his first in-person visit to the state since accepting the Democratic nomination for president.
Whitmer said that Biden's campaign is "scrupulously following the science" and that "they want to keep their supporters and general public safe."
Biden spoke to members of the United Auto Workers union in Warren on Wednesday afternoon, discussing his plan to hike tax penalties on companies moving jobs out of the country.
In 2016, Trump's narrow win in Michigan made him the first Republican president nominee to secure the state since George H.W. Bush did so in 1988.
Last week, former Michigan Governor Rick Snyder, a Republican, announced his endorsement of Biden in a USA Today op-ed, saying that Trump lacks a "moral compass" and that he has been "leading the charge on incivility."
In response, Michigan Republican Party Chairwoman Laura Cox called Snyder "Mr. Irrelevant" in a tweet.