How to Watch, Live Stream Donald Trump's Tuesday Rally in North Carolina
Kicking off the fall campaign season, President Donald Trump is headed to Winston-Salem to hold a rally on Tuesday evening. This marks his third visit to North Carolina in the last three weeks and his sixth this year.
Trump is expected to deliver remarks from the Smith Reynolds Regional Airport at 7 p.m.
Attendees can register for up to two tickets per mobile number on a first-come, first-serve basis via the campaign website. Doors are set to open at 4 p.m. The rally will also be live streamed on Right Side Broadcasting Network's Youtube channel at this link.
Trump's narrow win in the battleground state four years ago was instrumental in his victory during the 2016 election.
Last week, the president visited Wilmington, North Carolina on Wednesday where he designated the port city a World War II Heritage City. The week before, Trump made another two stops in the state during the Republican National Convention in Charlotte on August 24, followed by a visit to a Mills River produce production company near Asheville.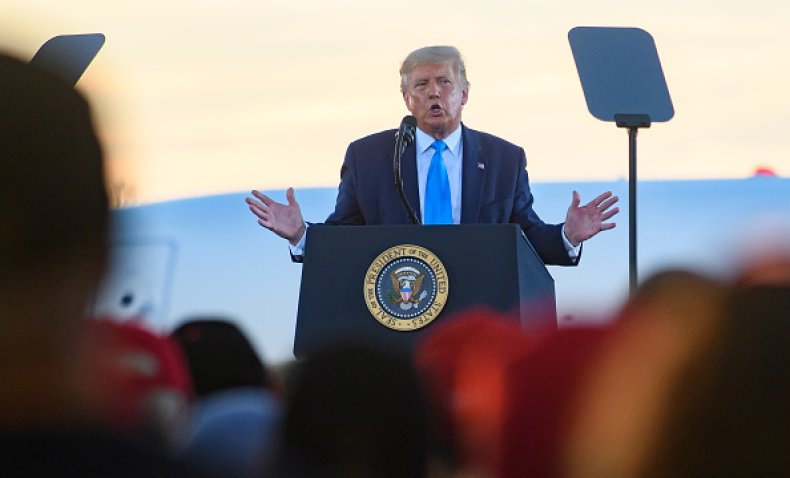 The state chapter of the Democratic Party criticized the in-person event, stating it would pose health concerns due to the coronavirus pandemic.
"Just as he spreads misinformation about phony coronavirus treatments and ignores our public health experts, holding a full-blown, in-person rally is a dangerous dereliction of Donald Trump's responsibility to protect public health," Austin Cook, communications director of the North Carolina Democratic Party, said in a statement.
"Instead of offering North Carolinians leadership or help, he's trying to spin his incompetence with another photo op. Voters in the Tar Heel State don't want a president who denies science and jeopardizes our safety in a desperate bid to help his own campaign; they want a president who will address this crisis with the clarity and seriousness the moment demands, and that's Joe Biden," Cook added.
The Republican chairman of the Forsyth County Board of Commissioners, where Winston-Salem is located, said he thinks Trump should follow Governor Roy Cooper's statewide mandate and wear a mask at the campaign rally.
"It's been ordered by the governor," Dave Plyler told the Winston-Salem Journal on Monday. "When in Rome, do as the Romans do. When in North Carolina, do as the governor says."
The campaign's website currently requires attendees to "acknowledge that an inherent risk of exposure to COVID-19 exists in any public place where people are present" and waive all risks related to the virus upon registration.
The latest polls from Five Thirty Eight show that Democratic nominee Joe Biden is ahead of Trump by 1.7 percentage points. Biden has not visited North Carolina since before the pandemic on February 29.
Trump is also expected to stop in Jupiter, Florida later this week.