Joe Biden is expected to give a televised speech during prime time from his hometown of Wilmington, Delaware on Friday. Kamala Harris, the vice presidential running mate with Biden, is expected to give remarks before Biden speaks.
Biden's team hoped to have key states called before his speech on Friday evening, CNN reported. The speech was therefore delayed as counts in Arizona, Pennsylvania and Nevada continued.
Here are ways to watch Biden's speech:
Time: Approximately 9 p.m. ET (delayed)
TV: Most major news networks are expected to carry (CNN, FOX News, MSNBC, etc)
Live Stream: YouTube via this link at Bloomberg QuickTake: Now — or by clicking on the video feed below.
Though the former vice president has not yet stated what the speech will be about, addressing the nation tonight could be a show of confidence that he may soon claim victory in the 2020 election.
As of Friday afternoon, Biden is on the cusp of defeating President Donald Trump with just six electoral votes away from victory, according to the Associated Press.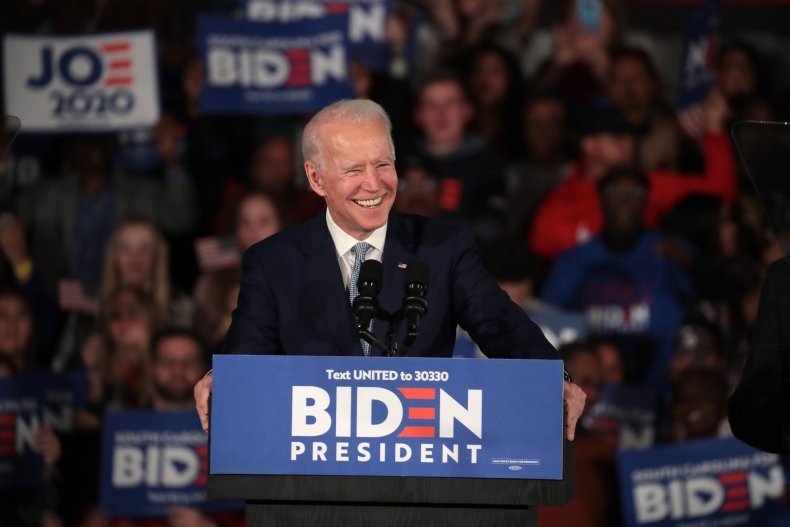 Biden is currently in the lead in Pennsylvania, Georgia and Nevada, as ballots continue being counted in each of the battleground states. If he were to win any of those states, he would win the presidential election.
The former vice president spent Friday at his home in Wilmington, Delaware, while he awaits for the remaining votes to be counted. Throughout the week, he has urged his supporters to remain patient and "keep the faith," as ballots continue being processed.
"Democracy is sometimes messy," he said. "It sometimes requires a little patience as well. But that patience has been rewarded now for more than 240 years with a system of governance that's been the envy of the world."
Outside of the Wilmington's convention center, a stage that has been set up since election night for a Biden victory party remains intact.
But the presidential race has not yet been called.
Outstanding ballots are still being counted in each of the above states, with results expected to continue coming in throughout this afternoon and evening.
As of late Friday afternoon, approximately 92 percent of the vote had been reported in Nevada; 96 percent of the vote had been reported in Pennsylvania; and 98 percent had been reported in Georgia, according to The New York Times.
Newsweek reached out to the Biden campaign for more information regarding his speech Friday evening.
This story has been updated to say Biden's speech was delayed.