How to Watch, Live Stream RNC Day 1 Featuring Donald Trump Jr., Tim Scott, Nikki Haley
The Republican National Convention's public events begin on Monday with a list of speakers that includes members of Congress and President Donald Trump's oldest son.
The convention's four days of public events began Monday morning as delegates across the country officially nominated Trump and Vice President Mike Pence to run as the party's representatives in the 2020 presidential election. Trump addressed the delegates in a speech delivered Monday at the Charlotte Convention Center in Charlotte, North Carolina, and is expected to formally accept his party's nomination in a speech he is set to deliver from the White House on Thursday. Pence is scheduled to accept his nomination on Wednesday.
Trump's campaign on Sunday released a list of speakers expected to appear on each day of the convention, which it said will serve as a tribute to the "American story."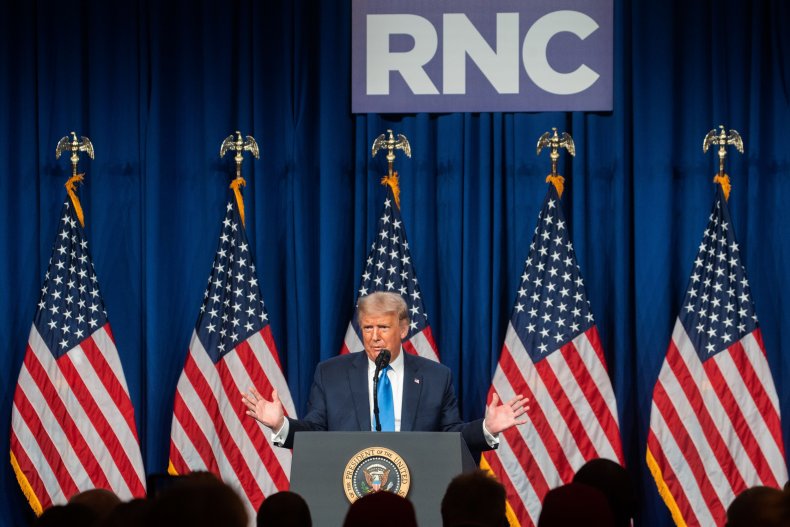 "Over four nights, President Trump's 2020 Convention will honor the great American story, the American people that have written it, and how President Donald J. Trump's Make America Great Again agenda has empowered them to succeed," the campaign said in a release announcing the convention lineup.
According to the campaign's announcement, Donald Trump Jr. will address the convention on the convention's first evening, as will South Carolina Senator Tim Scott and House Republican Whip Steve Scalise of Louisiana.
Representatives Matt Gaetz of Florida and Jim Jordan of Ohio are also expected to deliver public remarks on Monday evening, as will former Ambassador Nikki Haley, Republican National Committee Chairwoman Ronna McDaniel and Georgia State Rep. Vernon Jones. Also included on the campaign's list of Monday speakers are Amy Johnson Ford, Kimberly Guilfoyle, Natalie Harp, Charlie Kirk, Kim Klacik, Mark and Patricia McCloskey, Sean Parnell, Andrew Pollack and Tanya Weinreis.
While most of the convention's events happen during the day, the public remarks from high-profile politicians will be delivered in the evening, as was the case at the Democratic National Convention last week. The speeches are expected to begin around 8:30 p.m. ET and will end around 11 p.m. ET.
Those interested in watching Monday night's speeches can do so by tuning in to local television providers AT&T U-verse, DirecTV and DirecTV Puerto Rico. ABC, CBS, NBC and Fox News will all cover the event starting at 10 p.m. ET, CNN and PBS will begin their coverage at 8 p.m. ET, MSNBC will start at 7 p.m. ET and C-SPAN will broadcast the speeches at 8:30 p.m. ET.
The convention speeches will be available to watch online on the Republican National Committee's Facebook, Twitter, YouTube and Twitch accounts. Amazon Prime Video will also stream the events, according to the committee.