How to Watch, Live Stream Trump Remarks in Pennsylvania on the Same Day Biden Accepts Nomination
Hours before former Vice President Joe Biden formally accepts the nomination to be the Democratic candidate for president, President Donald Trump will deliver remarks of his own in Pennsylvania.
Trump is scheduled to speak at Mariotti Building Products, a building materials supplier and showroom, in Old Forge, Pennsylvania, at 3 p.m. ET on Thursday. An event that's closed to the general public, viewers can tune in for the president's remarks through his campaign's official YouTube channel.
In the 2016 election, Trump took Pennsylvania, often thought of as being a "blue state," by less than a percentage point. However, it gave him all 20 electoral college votes, giving him an advantage that would eventually push him over the 270 vote threshold to become President of the United States.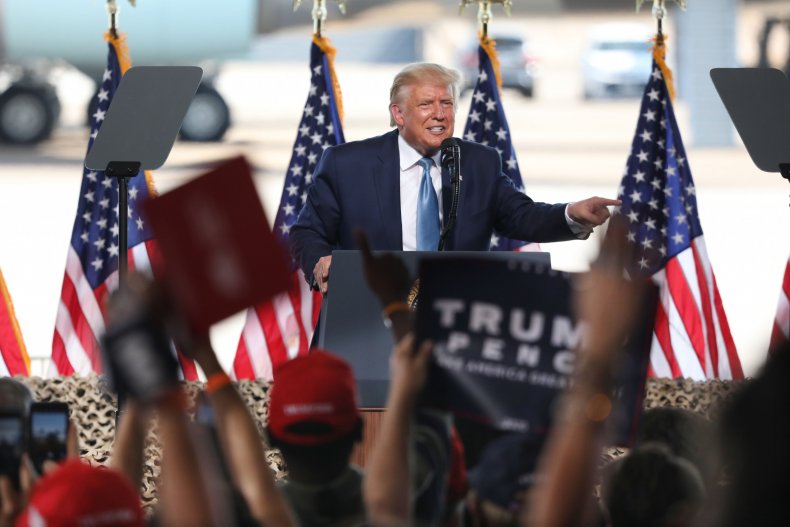 Part of Trump's 2016 election victory is due to his heavy campaigning in states that can be difficult for Republicans to win and it appears he's applying a similar tactic in the 2020 election. Although he lost Lackawanna County, where Old Forge is located, to Democratic candidate Hillary Clinton by 3.5 percentage points, it's near the border of Luzerne County, which voted for Trump by 19.3 percentage points.
"Luzerne County went for Donald Trump big in 2016," Frank Scavo, a former Old Forge School Board Director told WNEP. "I believe Lackawanna County will go for Donald Trump in 2020."
Aside from Old Forge being near an area that heavily supported Trump in the 2016 election, it's down the road from the city of Scranton. Most famously known for being home to the fictional Dunder Mifflin Paper Company from The Office, it's also where Biden was raised until he was a teenager.
A blue-collar city, Biden often credits his upbringing for instilling in him the value of hard work. The former vice president shared in numerous interviews that his father, who worked as a car salesman, would tell him a job was about "a lot more than a paycheck." A job, according to his dad, was about "dignity," "respect" and a person's "place in your community."
About seven hours after Trump begins his remarks in Pennsylvania, Biden is expected to address the Democratic National Convention and formally accept the nomination to be the party's presidential candidate. He'll deliver his remarks virtually from Wilmington, Delaware, where he's lived for more than 60 years. Biden was officially nominated on Tuesday night and posted on Twitter that it is the "honor" of his life to accept.