How to Watch, Live Stream Trump's Re-Election Rally in Mosinee, Wisconsin
President Donald Trump will take his re-election campaign to a rally in Mosinee, Wisconsin, on Thursday night as part of his efforts to ramp up support in the crucial swing state.
Those interested in virtually attending the event can register through the campaign's website to view a live stream. The rally is scheduled to begin at 8 p.m. CDT, or 9 p.m. EST.
Trump will host the event at an airport hangar near Wausau, part of a heavily Republican district about 100 miles west of Green Bay. It is the same place the president visited two years ago to support the U.S. Senate campaign of Leah Vukmir and the re-election bid of former Governor Scott Walker, the Milwaukee Journal Sentinel reported.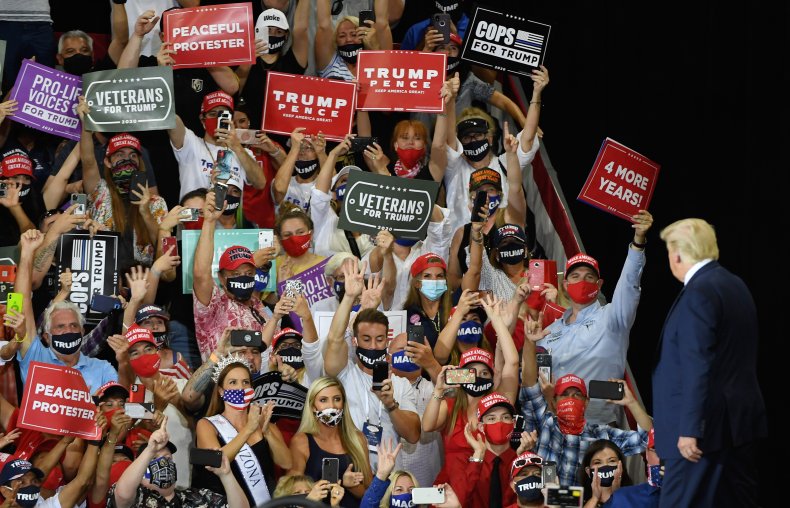 Trump won Wisconsin in 2016 by a narrow margin, garnering about 20,000 more votes than Democrat Hillary Clinton. The state carries 10 electoral votes and is considered a key battleground in Trump's race against former Vice President Joe Biden.
Wisconsin traditionally leans blue, as major cities like Milwaukee and Madison are more liberal. But Trump's ability in 2016 to appeal to the state's more rural and conservative pockets proved to be a big help to his winning the state.
Thursday marks Trump's third visit to the state within the past month alone. The president appeared in Oshkosh on August 17 to address a crowd of about 1,000, telling them that the plunging stock market and U.S. economy would recover if he is re-elected, the Journal Sentinel reported.
"I won't forget you—just like you didn't forget me in 2016," Trump said in front of a hangar at Wittman Regional Airport. "This has been an incredible experience getting to know you. I've been here a lot...we've been good for each other."
But Trump has consistently trailed Biden in Wisconsin during the coronavirus pandemic, according to polls. Biden has maintained single-digit leads in the state for several months now, with the most recent poll, conducted by ABC News/The Washington Post, showing that 50 percent of registered voters preferred Biden, compared with 46 percent for Trump.
The poll, conducted from September 8 through 13, asked for voters' opinions following Trump's last visit to Wisconsin. The president flew to Kenosha on September 1, nine days after the police shooting of Jacob Blake, a 29-year-old Black man, in that city.
Protesters flooded the city almost immediately to demonstrate against systemic racism and police brutality. Some of the protests turned violent, with buildings in Kenosha burned to the ground and two persons fatally shot.
During his visit to Kenosha, Trump toured the destroyed buildings, surveying the damage and pledging the federal government's support. "Kenosha has been ravaged by anti-police and anti-American riots," the president said during a roundtable discussion at Bradford High School.
Biden, who visited the city on September 3, took a different approach, speaking to Blake and members of his family on the phone. He also held a community meeting at Grace Lutheran Church where he discussed the criminal justice system, police brutality and racial tensions, the Journal Sentinel reported.
"We've gone through a lot. We're finally now getting to a point [where] we're going to be addressing the original sin of this country, 400 years old, the original sin of this country—slavery," Biden said.
Trump's next rally is scheduled for Friday at 6 p.m. CDT in Bemidji, Minnesota.