How to Watch, Live Stream Trump's Speech at North Carolina GOP Convention
Former President Donald Trump is set to deliver a speech at the North Carolina GOP State Convention on Saturday.
Since losing the 2020 election to Joe Biden, Trump commands a strong following from the GOP and is still considered the leader of the party, although some are split on whether that's the best path forward. As the headliner of the convention, Trump is scheduled to address attendees Saturday at 7:00 p.m. ET.
Trump's remarks to the North Carolina GOP convention can be live streamed at WITN-TV, as well as, on C-SPAN 1.
"President Trump won North Carolina in 2016 by promising to put America First, and he won North Carolina in 2020 by keeping that promise. President Trump delivered real results for North Carolina by rebuilding the military, standing strong against China, and unleashing the American Economy," North Carolina GOP Chairman Michael Whatley said in a statement.
Whatley added that it was an honor to bring Trump to the convention, which he said will serve as the kickoff for the campaign to retake Congress and the Senate in the 2022 midterms.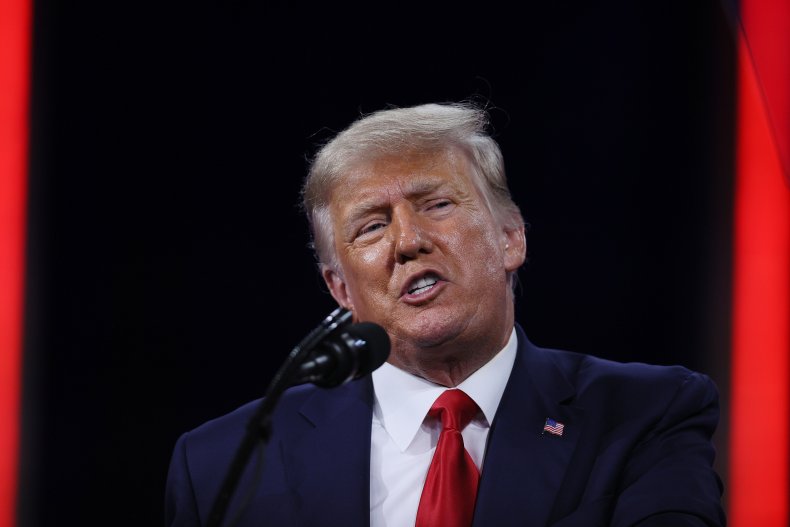 Trump vowed to pour his efforts into the 2022 midterms and help Republicans gain enough seats in the House and the Senate to take over control of both chambers from the Democrats.
Historically, the president's party loses seats during the midterm. Republicans only need to pick up nine seats in the House and one in the Senate to become the majority party in both chambers.
Rumors have been circulating that Trump is mulling a 2024 presidential run, and his first public speech since leaving office did little to dispel that speculation. At CPAC this past February, he reiterated his claim that Democrats lost the election and teased at a 2024 run by saying that he "may even decide to beat them for a third time."
More recently, in May, he told Candace Owens that he was in the process of making the decision as to whether to run and that people would be "very, very happy" when he makes a "certain announcement."
Despite the possibility of Trump being on the ticket, senior advisor Jason Miller has maintained that the former president's focus is on helping Republicans win in 2022. One of those Republicans may even be his daughter-in-law, Lara Trump.
A North Carolina native, Lara was a key player in Trump's campaign in the state, and was considering a bid for Senator Richard Burr's seat, as he's not seeking reelection in 2022. It's often easier to win an open seat than oust an incumbent and Lara has been a leader in polling for the hypothetical race. She has yet to officially enter the campaign for Burr's seat, however, and faces a number of Republican challengers if she does.