How to Watch, Livestream Joe Biden's Philadelphia Town Hall in Place of Second Debate
Democratic presidential nominee Joe Biden will be participating in a town hall event on Thursday starting at 8 p.m. ET.
ABC News will be hosting the event in Philadelphia, but the town hall will also be available to watch online.
Biden and President Donald Trump were initially slated to participate in the second presidential debate—which was to take the form of a town hall-style event—on Thursday evening at the Adrienne Arsht Center for the Performing Arts in Miami-Dade County. However, Trump's COVID-19 diagnosis earlier this month put the future of the debate in question.
While the Commission on Presidential Debates, which organizes the events, said it would proceed with the debate virtually, Trump's campaign opposed a remote event and pushed for the commission to either hold the debate in person as originally planned or to reschedule it.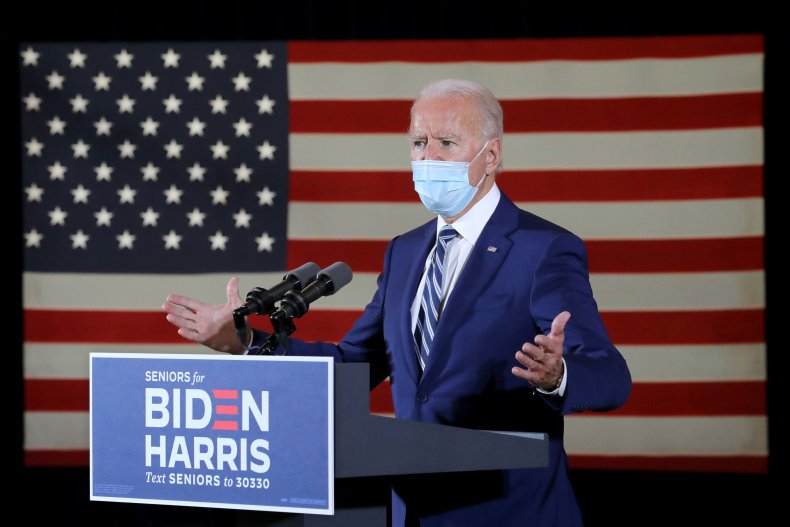 In response to the Trump campaign's attempt to shift the timing of the second debate, Biden's campaign announced on October 8 that the former vice president would instead host a town hall event of his own. Biden's deputy campaign manager and communications director, Kate Bedingfield, said in a statement that they made their decision because Trump "has refused" the commission's virtual debate offer.
"As a result, Joe Biden will find an appropriate place to take questions from voters directly on October 15th, as he has done on several occasions in recent weeks," Bedingfield said.
The commission announced on October 9 that it decided to cancel the second debate altogether. As of Wednesday, the final debate between the two presidential candidates was still scheduled to take place in person as planned on October 22 at Belmont University in Nashville, Tennessee.
NBC News announced on Wednesday that it too will host a town hall event on Thursday night, though its event will be with Trump in Miami. Trump's town hall will begin at the same time as Biden's, according to the network.
In Philadelphia, ABC News Chief Anchor George Stephanopoulos will moderate the town hall with Biden at the National Constitution Center. Voters will have an opportunity to ask Biden questions over the course of the special edition of 20/20, which the network said will last 90 minutes. The event will follow all state and local health guidelines put in place due to the coronavirus pandemic, according to ABC News.
Voters interested in watching the event can tune in to ABC News starting at 8 p.m. ET or can watch it live on the network's website and mobile apps. The event will also be streaming on ABC News Live, which the network said is accessible on Amazon Fire, Hulu, Roku, Sling TV, Xumo and YouTube TV. ABC News' Facebook and Twitter pages will also livestream the event.