How to Watch, Livestream Kelly Loeffler and Raphael Warnock's Debate Ahead of Georgia Runoff Elections
Republican Senator Kelly Loeffler will participate in a debate opposite Raphael Warnock, the Democratic candidate campaigning for her congressional seat ahead of Georgia's upcoming runoff elections, on Sunday evening.
The debate, which comes exactly one month prior to the widely anticipated January 5 runoff, is scheduled to begin at 7 p.m. ET.
C-SPAN will broadcast the conversation on television and online. Interested viewers can access additional live streams of the event at Georgia Public Broadcasting's official website and the Atlanta Press Club's Facebook page.
Fox 5 anchor Russ Spencer will serve as moderator, according to the Atlanta Press Club, which hosts the debate series. Atlanta Journal-Constitution political writer Greg Bluestein and WABE Radio Morning Edition host Lisa Rayam will join Spencer as panelists.
Loeffler and Warnock are contending for one of Georgia's two U.S. Senate seats up for election this year. Incumbent Republican Senator David Perdue is running against Democratic challenger Jon Ossoff for the other. The circumstances of Georgia's congressional election in 2020 is unique. State law stipulates that election races move to runoffs when neither candidate receives a plurality of votes, which was the case for Loeffler and Perdue's respective positions this cycle.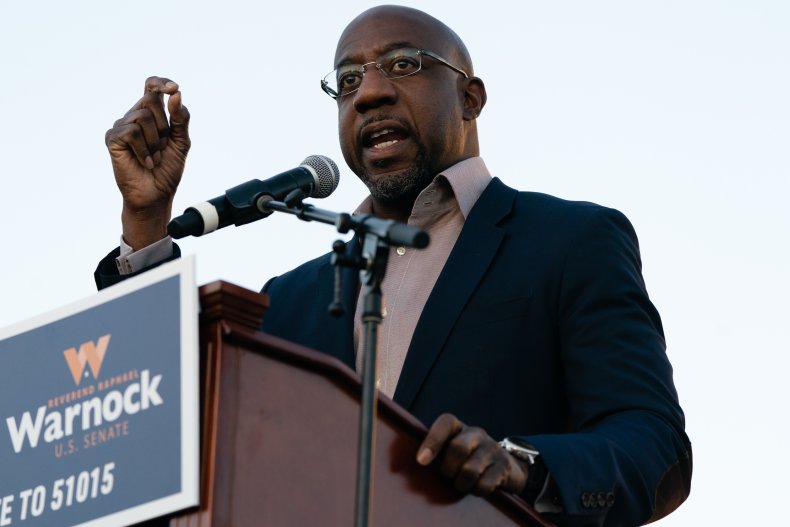 The outcomes of Georgia's concurrent runoff contests gained increasing national attention in the aftermath of November's general election. Republicans currently hold 50 Senate seats to Democrats' 48, meaning that triumphs by both Warnock and Ossoff are necessary in order for the latter party to secure a majority. Vice President-elect Kamala Harris would then offer the tie-breaking vote to give Democrats Senate control.
Because of the dual runoff contests' implications for Congress, ongoing congressional campaigns in Georgia have received millions in donations from public figures, political action committees and individual politicians. On Monday, all four candidates' combined advertisement spending topped at least $280 million.
Loeffler, who was appointed to represent Georgia in the Senate as former Senator Johnny Isakson's replacement following his retirement, participated in a crowded special election against Warnock and several other candidates on November 3. Although no candidate earned a plurality, Warnock received the most public support of all contenders with roughly 32 percent of votes. Loeffler received roughly 25 percent.
The November race between Perdue and Ossoff was considerably closer, with the incumbent Republican receiving slightly less than 50 percent of votes compared with the Democratic challenger's approximate 48 percent.
Perdue declined to participate in a debate against Ossoff leading up to the January election. Ossoff will instead deliver remarks on his own ahead of Loeffler and Warnock's debate Sunday. The Democrat is scheduled to appear on the debate stage at 5 p.m. ET.
"The Atlanta Press Club's Loudermilk-Young Debate Series is disappointed that Sen. David Perdue has decided to not participate in his debate," wrote the non-profit news organization in its press release announcing the congressional debates' details. "Jon Ossoff has confirmed his participation, so according to our rules, we will proceed with the debate and Sen. Perdue will be represented by an empty podium."
Correction December 6, 2020, 2:22 PM ET: A previous version of this story incorrectly stated that the runoff election will take place on January 6. The correct date of the runoff election is January 5. We apologize for the error.