How to Watch and Live-Stream Wednesday's Democratic Debate and Republican Town Hall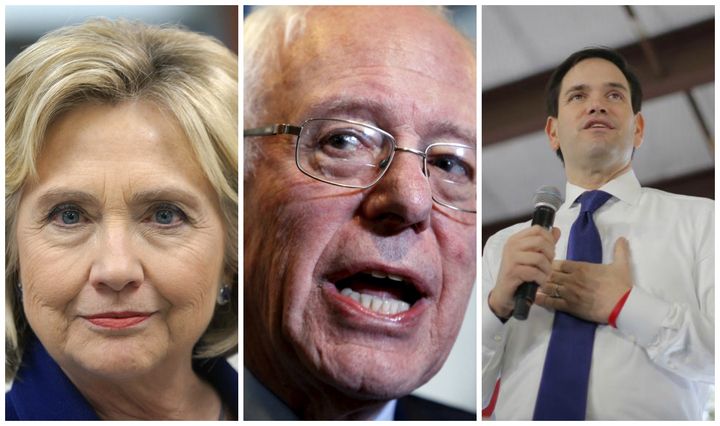 On Wednesday night in Miami, Hillary Clinton and Bernie Sanders will face off for the second time this week in a Democratic presidential debate.
The two contenders most recently met on Sunday for a forum in Flint, Michigan, where they took feisty jabs at each other about the city's ongoing lead-laced water crisis, gun control and the auto industry bailout. The pair also individually spoke to voters at a Fox News town hall in Detroit on Monday night.
The Washington Post and Univision will co-host the debate, which will begin at 9 p.m. ET from the campus of Miami Dade College. The Post's Karen Tumulty will be joined by Univision's María Elena Salinas and Jorge Ramos as moderators.
It will be streamed online at Univision.com, the Post's desktop and mobile websites, CNN.com and Fusion.net. For TV viewers, Univision Network will air the event live in Spanish, and CNN and Fusion will simulcast in English. Social media users can follow along using the hashtags #DemDebate and #Destino2016.
[Related: March Presidential Primary Election, Caucus and Debate Calendar]
Not much has changed on the issues dominating the election cycle since the Democrats' last face-to-face meeting three days ago. But the contest comes a day after the party's primaries in Michigan and Mississippi—and less than a week before the crucial Florida primary on March 15. The Democratic National Committee hasn't yet released the date of the party's next debate.
Meanwhile, in the Republican race, MSNBC will host a town hall with Senator Marco Rubio on his home turf in Florida just an hour before the Democratic debate. Meet the Press moderator Chuck Todd will moderate the hour-long forum, which will take place at Florida International University in Miami. It will air at 8 p.m. ET on MSNBC and stream online at both now.MSNBC.com and NBCNews.com.
In recent days, Rubio has emphasized the importance of a Florida win for his campaign's future, a primary in which the winner takes all of the available delegates. The most recent polls show Rubio closing in on front-runner Donald Trump's lead in the Sunshine State, but it remains unclear whether the senator ultimately will emerge a victor next week in Florida.
On Thursday, Rubio will join his three GOP contenders—Trump, Ted Cruz and John Kasich—on stage for the 12th Republican prime-time debate, hosted by CNN. The Republicans also will meet in Miami ahead of the upcoming Florida primary. Prior to voting on March 15, the District of Columbia and Guam will hold their GOP-nominating events on Saturday.