How to Watch, Livestream Ruth Bader Ginsburg's Memorial Ceremony
Memorial services to honor late Supreme Court Justice Ruth Bader Ginsburg will commence in Washington, D.C., on Wednesday. The celebrated jurist, who become the second woman in history appointed to the U.S. Supreme Court in 1993, passed away September 18 from complications of pancreatic cancer. She was 87 years old.
Ginsburg's casket will arrive at the Supreme Court before 9:30 a.m. ET on Wednesday, ahead of a private memorial ceremony scheduled to take place inside the building's Great Hall. Her family, close friends and fellow jurists are expected to attend, according to an announcement issued Monday by the Supreme Court. C-Span will air a live broadcast of the casket's arrival and subsequent indoor ceremony.
Supreme Court police officers will act as pallbearers during the arrival, with Ginsburg's former law clerks positioned along the steps of the court building prior to the Great Hall ceremony. After the private service, which is set to begin at 9:30 a.m. ET, Ginsburg will lie in repose on the Supreme Court steps throughout most of Wednesday and Thursday. Members of the public can pay their respects in person between 11 a.m. and 10 p.m. ET on Wednesday, and between 9 a.m. and 10 p.m. ET on Thursday.
Following public viewings outside the Supreme Court, Ginsburg will lie in state in National Sanctuary Hall at the Capitol building on Friday. House Speaker Nancy Pelosi announced the commemorative proceeding on Monday, noting that another formal ceremony will take place Friday morning. The ceremony will be closed to the public to reduce risk of COVID-19 transmission, Pelosi's announcement said. More details will become available later in the week.
Pelosi was one of many political leaders who responded to Ginsburg's death with statements lauding her judicial record.
"Justice Ginsburg embodied justice, brilliance and goodness, and her passing is an incalculable loss for our democracy and for all who sacrifice and strive to build a better future for our children," said the House Speaker in a statement. "Every family in America benefited from her brilliant legacy and courage. Her opinions have unequivocally cemented the precedent that all men and women are created equal."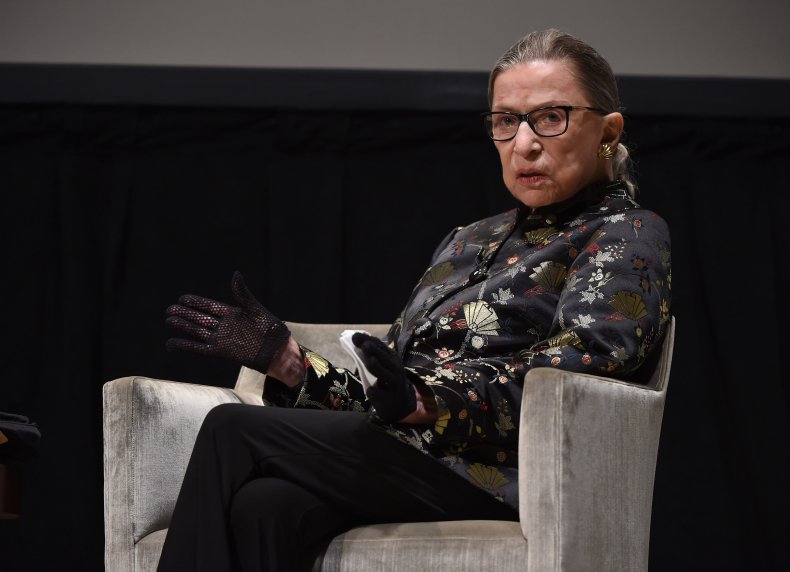 Initially appointed to the Supreme Court by Bill Clinton during his first term in office, Ginsburg pushed back against gender discrimination, defended reproductive rights, advocated for marriage equality and wrote the opinion that allowed people with disabilities to receive state sanctioned support outside of institutions.
A private internment service for Ginsburg will take place next week at Arlington National Cemetery.