How to Watch Manning Brothers for Monday Night's Packers-Lions Broadcast
Monday night's NFL game will once again have an alternative broadcast of former quarterback brothers Peyton and Eli Manning giving unique takes on the game and their experiences, all while extracting information from a bevy of guests.
With the Green Bay Packers hosting the Detroit Lions on Monday, it's not far-fetched that Hall of Fame quarterback Brett Favre could be a guest during the game.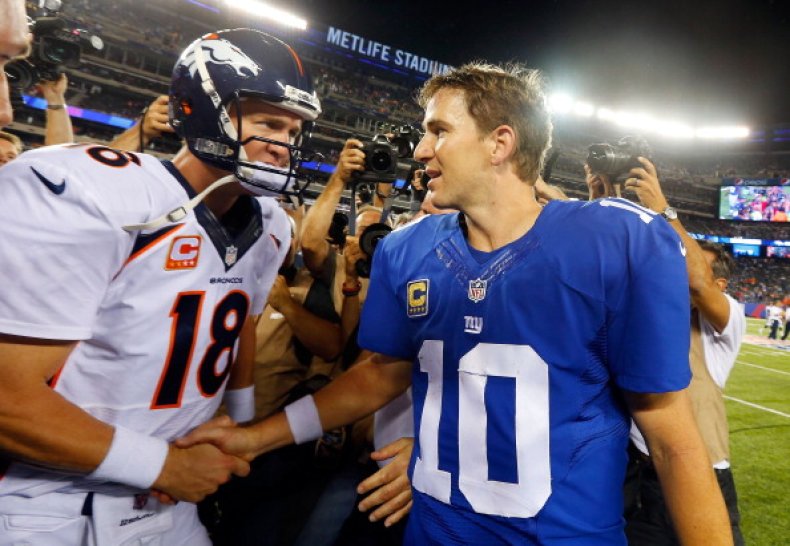 What is the Manning broadcast? ESPN does a traditional broadcast of the game on its flagship network while the Manning brothers do their remote commentary on ESPN2.
Monday Night Football with Peyton and Eli will air at 8:15 p.m. on ESPN2 while the traditional broadcast will air on ESPN at 8 p.m.
Here's how to watch:
Channels: Verizon Fios, AT&T U-verse, Comcast Xfinity, Spectrum/Charter, Optimum/Altice, Cox, DIRECTV, Dish, Hulu, fuboTV, Sling.
Live stream (free trial): fuboTV
This will be the home opener for the Packers after a 38-3 road loss to the New Orleans Saints in a game played in Jacksonville after Hurricane Ida forced the game to be moved from New Orleans.
ESPN launched its alternative broadcast last Monday for the Baltimore Ravens-Las Vegas Raiders matchup. The Manning brothers spoke candidly during the first quarter with NBA Hall of Famer Charles Barkley, who's about as candid as it gets.
The Manning brothers brought Hall of Fame linebacker Ray Lewis to the virtual set in the second quarter. Needless to say, the Manning brothers bring more spark to live football than they do their TV commercials.
The Mannings brought Travis Kelce to the third quarter and Seahawks quarterback Russell Wilson to the final period.
Peyton Manning, 46, played 18 seasons in the NFL, most with the Indianapolis Colts, and the rest with the Denver Broncos. He won two Super Bowl titles and lost two.
Eli, 40, played 16 seasons, all with the New York Giants. He won two Super Bowls, both over the vaunted New England Patriots and legendary quarterback Tom Brady.
Manning and Eli offer all kinds of commentary from offensive formations, defensive alignments and bouncing back from losses.
The brothers often break down situational plays, like 2nd-and-short to 3rd-and-long. They describe times in their storied careers, and often bring their legendary father, Archie Manning, into the conversation.
The Mannings are expected to do the alternative broadcast for most, or all, of the MNF season on ESPN.
As for Monday night's broadcast, the Mannings did the first quarter by themselves. They had Tampa Bay tight end Rob Gronkowski in the second quarter, Brett Favre in the third quarter and Patrick Willis and Pat McAfee in the fourth quarter.
The next Monday night game will be Sept. 27 in Dallas when the Philadelphia Eagles travel to face the Cowboys.