How to Watch 'The Marvelous Mrs. Maisel' Season 3, Plot and Everything You Need to Know
Mrs. Maisel is going on tour, and Amazon Prime subscribers can follow her now. Season 3 of The Marvelous Mrs. Maisel was uploaded to the streaming site on Friday and will explore Midge's comedy career, relationships and more.
The second season of the Emmy-winning series showed Midge spending summer with her parents in the Catskills, opening up about her once-secret career and challenging the stereotypes of a wife, mother and working woman in the 1950s. The third season will also show Midge on bigger stages, connections and conversations with her family.
A synopsis for the season, as written by Amazon, shows several plot lines. "Midge and Susie discover that life on tour with Shy [Baldwin] is glamorous but humbling, and they learn a lesson about show business they'll never forget," it reads. "Joel struggles to support Midge while pursuing his own dreams. Abe [Weissman] embraces a new mission, and Rose learns she has talents of her own."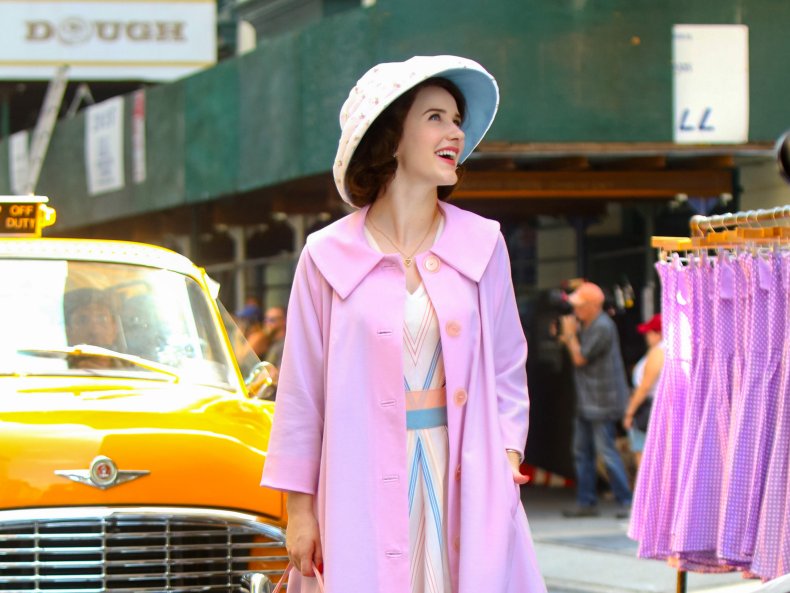 The series is an Amazon Original, which means it can only be viewed on the Amazon Video platform. This is a service included in a subscription to Amazon Prime, which costs either $119 per year or $12.99 per month. Prime does offer a free trial, and a discount to students as well.
The Marvelous Mrs. Maisel has been celebrated for embracing a feminist voice and showing main character Midge as a woman before a wife, mother or daughter. Some have used this point to criticize the series, though. Critics have claimed the show's portrayal of Midge's motherhood is unrealistic, though actor Rachel Brosnahan doesn't agree.
Brosnahan spoke to Newsweek about statements that Midge is a bad mother. "I don't understand it," she explained. "Mom shaming is such a real thing on- and off-screen. Midge may not look like how we picture the ideal mother, but her children are well cared for by four loving grandparents, a very-involved husband, neighbors and the maid. They are loved, but Midge is a working mom. Even though she's a fictional character, I have been personally offended for her at times listening to some of this criticism. Midge and Joel are not going to be parents of the year, but the idea that they are abusive or neglectful is outrageous."
The series shows Midge on stage, in more episodes than not. At the same time, she struggles with a marriage that has fallen apart. The Marvelous Mrs. Maisel follows the comedian as she embraces her own strong opinions on stage, and is applauded by most who watch the innovative performances.
Fans celebrated the release of The Marvelous Mrs. Maisel Season 3 on Twitter Friday morning. Many posts expressed excitement for the new season and the hilarious journey Midge is likely to find herself on.