How to Watch 'The Match:' Tiger Woods Vs Phil Mickelson Time, Cost, Pay-Per-View Channel, 11/23/2018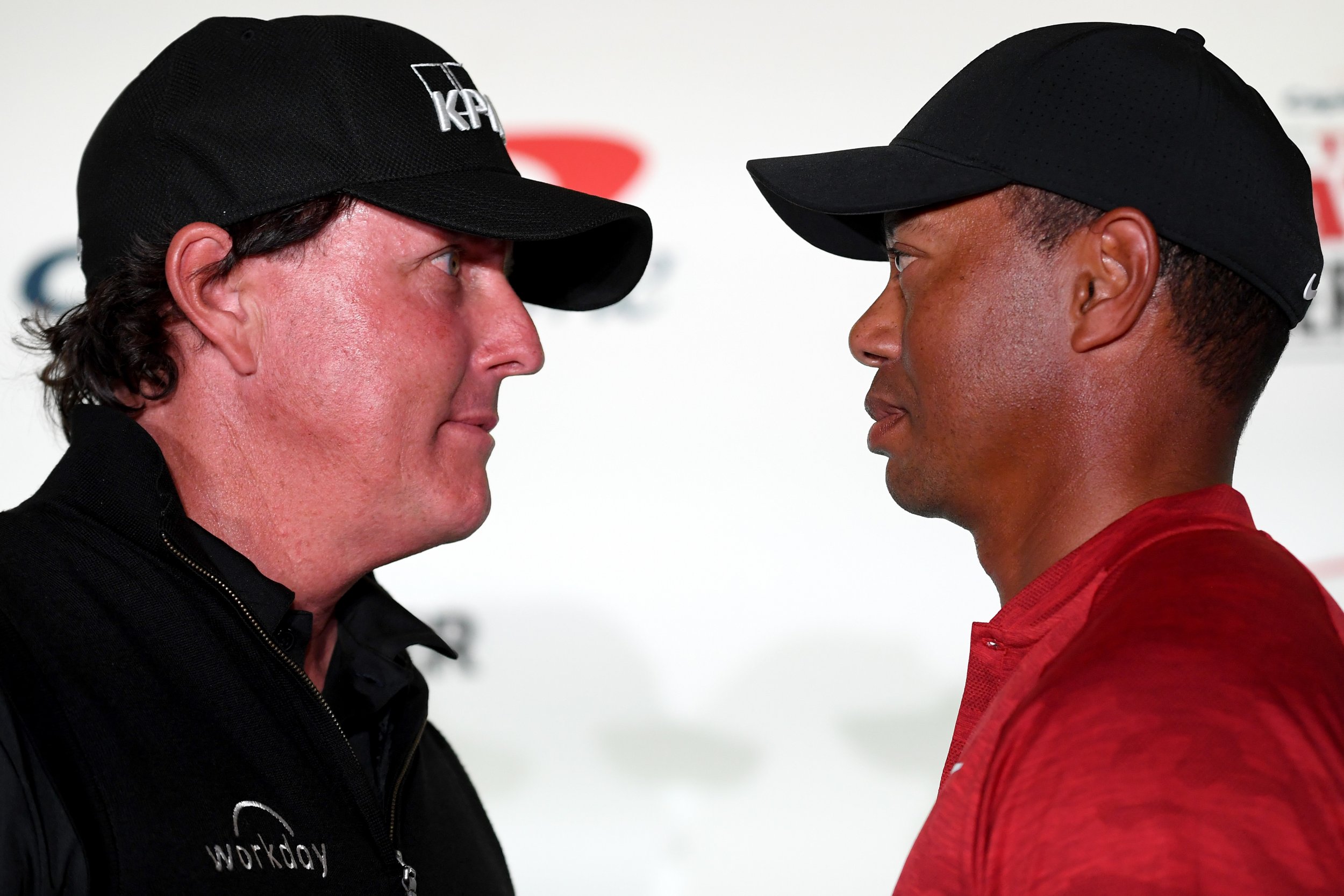 Two of golf's modern-day legends will faceoff as Tiger Woods and Phil Mickelson compete in Capital One's "The Match" pay-per-view live event on Friday, November 23, 2018.
Woods is just two months removed from winning at the season-ending Tour Championship at East Lake Golf Club in Atlanta, his first PGA victory in five years. The 42-year-old also had seven top-10 finishes and 12 in the top 25 in 2018.
Mickelson ended the longest drought of his career with a playoff victory at the WFC-Mexico Championship in March. The 48-year-old lefty had six top-10 finishes and 15 top 25 this year.
Sponsors put together a $9 million prize, but both golfers are expected to place wagers throughout the match.
On Tuesday, Mickelson managed to "bait" Woods into a $200,000 side bet during a news conference at Shadow Creek.
"Lefty" revealed that he's been thinking of side challenges to be included in the pay-per-view event.
"I feel like the first hole is a great hole for me," Mickelson said. "And I believe -- in fact I'm willing to risk $100,000 that says I birdie the first hole. So that's how good I feel heading into this match."
Mickelson told Woods that he wasn't obligated to accept, but still managed to lure him in with a back-and-forth during the news conference. "So you think you can make birdie on the first hole?
"I know I'm going to make birdie on the first hole," Mickelson said.
"Double it," Woods responded.
The match has been promoted similarly to a boxing match, including a staged stare-down at the end, which was broken up by laughter from both participants, as well as banter, plenty of hype and back-slapping from the legendary golfers who have become much friendlier toward each other in recent years.
Mickelson joked that Woods is six years younger than him "even though he doesn't look it," and added a summary of their respective careers.
"He came along and broke every single record I had," Mickelson said. "Junior records, college. U.S. Amateur: I won one, he won three. At Shadow Creek, I shot the course-record 61. A couple of years later you shoot 60.
"But Friday you've got to do it simultaneously. You can't come along and do it later. It's my chance after losing so many tournaments to you, so many majors, to get something back."
Mickelson said that the upcoming match has motivated him to practice during what would normally be an off period.
"This is a unique opportunity to do something that I've had a hard time doing, which is to get a leg up on Tiger even if it's just one day," Mickelson said. "It's great to win the $9 million, but I just don't want to lose to him. The bragging rights are the thing. I want to be able to rub it in; I don't want it to be rubbed in. I want to sit in the champions locker room at Augusta [National, home of the Masters] and talk smack."
Woods revealed that he "shut it down for three or four weeks" after participating in the Ryder Cup before resuming golf activity.
"I've been getting back practicing and playing and grinding and playing golf again," he said. "It's been fun. Gets my juices flowing again."
Tee Time: 3 p.m. EST
Location: Shadow Creek Gold Course in Las Vegas, Nevada.
Cost: $19.99
Channel: INDemand, B/R Live, DirectTV, AT&T U-Verse and several other cable outlet Pay-Per-View stations.
Odds: Tiger Woods (-200), according to Bovada.