Michael Cohen Testimony Schedule: Time, How to Watch Live for Trump's Ex-Lawyer Hearings
President Donald Trump's former "fixer" Michael Cohen will head to Capitol Hill this week to testify before three congressional committees and is expected to discuss the president's role in some of the crimes to which Cohen pleaded guilty in 2018.
Cohen, who served as Trump's personal attorney for more than a decade, will appear in a closed-door hearing with the Senate Intelligence Committee on Tuesday, a public hearing with the House Oversight Committee on Wednesday and a closed-door hearing with the House Intelligence Committee on Thursday to answer questions regarding his allegations linking Trump to his crimes.
Cohen was convicted and sentenced on charges of tax fraud, lying to prosecutors and campaign finance violations for making hush money payments to two women just before Election Day to keep them quiet about their alleged affairs with the real estate mogul.
Before his sentencing in December, Cohen told the judge that he "felt it was my duty to cover up [Trump's] dirty deeds rather than listen to my own voice." Shortly after his sentencing, Cohen agreed that before his jail term began in May he would testify before lawmakers in Washington, D.C., under penalty of perjury.
This week, Cohen is set to make the three-day marathon of appearances before three congressional committees. On Tuesday, he goes behind closed doors for a talk with the Senate Intelligence Committee. This testimony will not be open to the press.
Senator Richard Burr, the intelligence committee chairman, told the Associated Press that no issue will be off-limits during Cohen's testimony and that the attorney should "expect to get any question from anywhere about anything."
Cohen's first public hearing will happen on Wednesday, as he faces the House Oversight Committee. During the testimony, Cohen has agreed to talk about Trump's "debts and payments relating to efforts to influence the 2016 election."
Trump's former attorney is referring to the hush money payments made to adult film star Stormy Daniels, whose real name is Stephanie Clifford, and former Playboy model Karen McDougal just before the presidential election. In a bombshell revelation last year, Cohen admitted in federal court that he made the payments "at the direction of" then-candidate Trump.
According to a memo released by the House Oversight Committee, Cohen is also expected to discuss Trump's finances and any possible conflicts of interests involving his family-run business, like the Trump Foundation and the Trump International Hotel.
Wednesday's hearing will happen at roughly the same time Trump is set to meet with North Korean leader Kim Jong Un in Vietnam. Cohen's testimony will be live-streamed on C-SPAN and is expected to be broadcast live on cable news channels starting around 10 a.m. ET.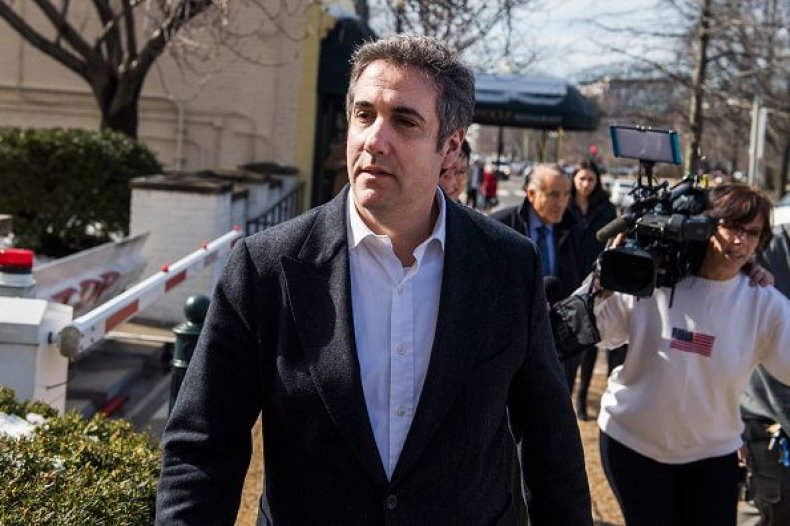 The only topic that will be off-limits during Wednesday's televised hearing will be anything related to Russia, because of special counsel Robert Mueller's ongoing investigation into election meddling and possible collusion.
Cohen will head back behind closed doors on Thursday for his final testimony of the week before the House Intelligence Committee. He is expected to be questioned by lawmakers about the Trump Tower project in Moscow during the 2016 election and other questionable foreign financial interests.
Cohen's appearance before the congressional committees has already been postponed several times. His first set date to testify in public had to be canceled after Cohen cited threats made against his family by Trump and his personal attorney Rudy Giuliani.
Trump fired back, saying that Cohen has "only been threatened by the truth."
Michael Cohen Testimony Schedule: Time, How to Watch Live for Trump's Ex-Lawyer Hearings | U.S.