How to Watch "Mike Tyson: The Knockout" on ABC
From Michael Jordan to Tiger Woods, documentaries delving into the lives of sports icons are now par for the course. It is therefore no surprise to see Mike Tyson is next the next taxi off that particular rank, with the 54-year-old the focus of Mike Tyson: The Knockout, a two-part ABC documentary which premieres today (May 25).
Even within boxing's rich and outlandish tapestry, few fighters have enjoyed veneration and simultaneously attracted public condemnation as often as Iron Mike did. From marginalized Brooklyn kid to the dominant force in boxing's premier weight division, at his peak Tyson was a near-peerless fighter—he reigned as the undisputed world heavyweight champion for three years.
Tyson's achievements in the ring, however, soon became overshadowed by squalid details of his personal life, which included allegations of domestic abuse and being sentenced to jail for raping an 18-year-old girl. His return to the ring ended in disgrace as he was stripped of his boxing licence for famously biting off Evander Holyfield's ear in 1997, before quitting six rounds into his final professional bout eight years later.
Tyson didn't fight for 15 years following his retirement, before briefly returning to the ring with an exhibition tour in 2006 and then making a much-publicized comeback in September last year when he fought Roy Jones Jr. in an eight-round exhibition bout.
Last month, Tyson announced he would fight Lennox Lewis almost two decades since the two heavyweights collided with the world title at stake. Whether those plans will come to fruition or whether it was simply another outlandish statement remains to be seen.
For the time being Mike Tyson: The Knockout offers a timely reminder of when Iron Mike ruled heavyweight boxing.
Here's all you need to know about the documentary.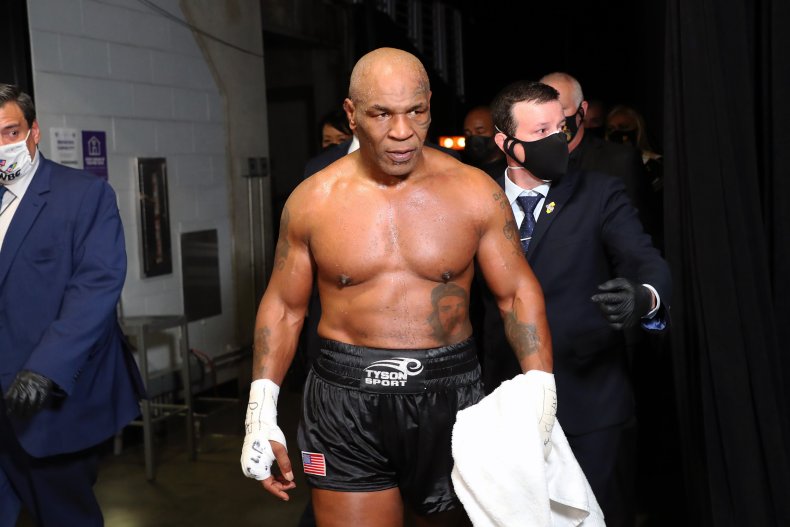 When does Mike Tyson: The Knockout air?
The first two-hour episode of ABC's two-part documentary premieres on Tuesday, May 25 at 8 p.m. ET. The second episode, which is also two hours long, will air the following week on Tuesday, June 1 at the same time.
Where to watch Mike Tyson: The Knockout
The documentary is to be broadcast exclusively by ABC. Both episodes can be viewed the next day on demand and are available to stream via ABC's digital platforms and Hulu.
What does Mike Tyson: The Knockout cover?
Condensing Tyson's extraordinary career and turbulent personal life in four hours is an incredibly difficult exercise, but the documentary covers a lot of ground. From a personal standpoint, the two-episode series charts Tyson's path from a difficult childhood as a victim of bullying to his rise to one of the most recognizable athletes in the world, through to his personal struggles.
In the first episode, the documentary explores into Tyson's beginnings as semi-regular guest of a juvenile detention centre and his broken marriage with Robin Givens, who publicly accused him of domestic abuse during an infamous interview with Barbara Walters of ABC's 20/20 in 1988.
Meanwhile, trainers Bobby Stewart, Joe Colangelo and Teddy Atlas delve into Tyson's ascent to boxing superstardom and Michael Spinks and Buster Douglas both feature in interviews describing the fights against Iron Mike.
The second episode covers Tyson's conviction and sentencing for the rape of 18-year-old Desiree Washington in 1992 through interviews with Tyson's defense attorney James Voyles and special prosecutor Greg Garrison.
Tyson's return to society as a free man, his addiction to cocaine and the emotional toll of losing his daughter Exodus all feature in the two-hour episode, whose core from a boxing perspective revolves around Tyson's return to the ring and his two fights against Evander Holyfield in 1996 and 1997.
Tyson lost the first bout, before being disqualified in the rematch for biting off part of Holyfield's ear in one of the most famous incident in boxing history.
"In addition to being an inspiring story of the perseverance and hard-won growth of one extraordinary person, Mike Tyson's life and career are also relevant to the important collective self-reflection finally occurring in America," Geoffrey Fletcher, the documentary's executive producer, said in a press release ahead of the premiere.