As 2021 celebrity duo's go, Miley Cyrus and Pete Davidson is a match nobody saw coming. The Bangerz star and SNL comedian have joined forces to host one of the biggest, best and boldest New Year parties in recent television history.
Their party is set to feature special guests and big some of the biggest names in music, you will not want to miss a thing. Newsweek has everything you need to know about Miley's New Year's Eve Party, including how and where to watch it.
How to watch Miley's New Year's Eve Party
Singing sensation and pop-culture icon Miley Cyrus will be with you to bring in the new year.
Her epic party will be available to watch via NBC, kicking off at 10.30 p.m. ET on Friday, December 31, and ending at 12.30 a.m. The entire occasion will also be available to stream via the NBC website on January 1.
If you are not an NBC customer, there is no reason to worry. Miley's New Year's Eve Party will also be available to stream live via Peacock, NBC's streaming platform.
You can sign up to Peacock for $4.99 per month now. Or, if you fancy having access to Peacock throughout 2022, you can subscribe now for $49.99 per year.
Miley's New Year's Eve Party will replace NBC's usual New Year's celebration hosted by Carson Daly.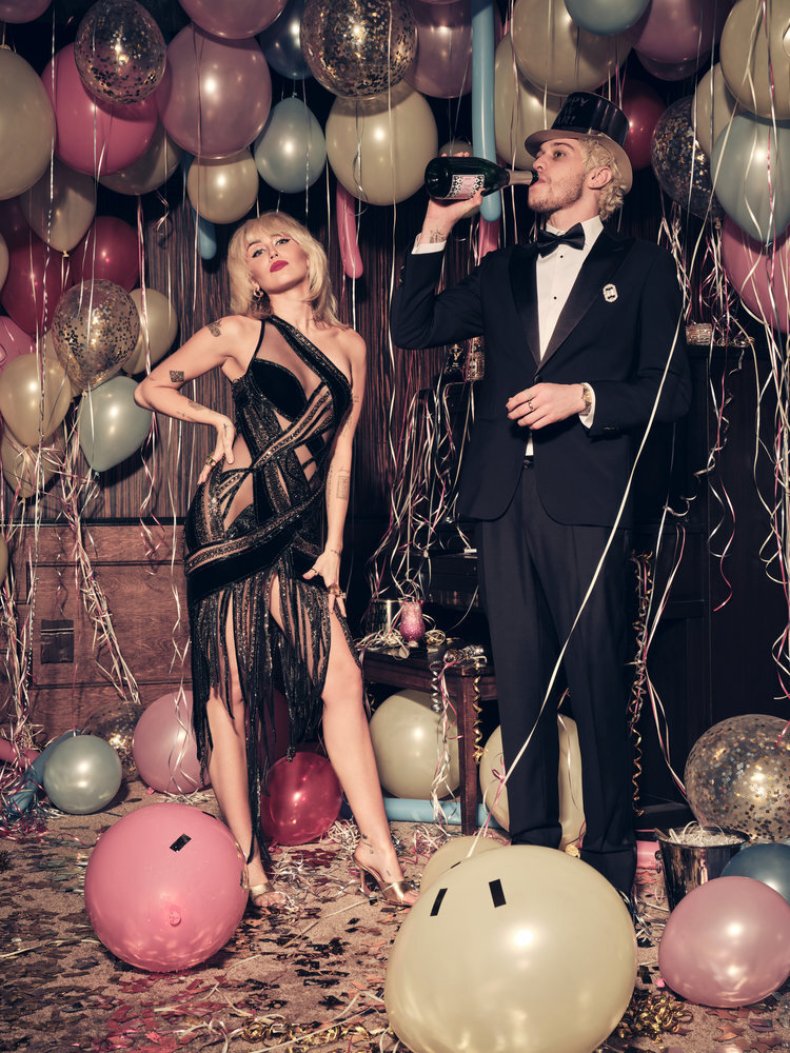 What Will Happen at Miley's New Year's Eve Party?
Miley Cyrus and Pete Davidson will be hosting Miley's New Year's Eve Party live from Miami and to bring in the bells, Miley has invited some star-studded guests to perform.
Taking to the stage to entertain audiences at home are Noah Cyrus, Brandi Carlile, Billie Joe Armstrong, Saweetie, Anitta, Jack Harlow, 24kGoldn, Kitty Ca$h.
There will also be some special guests, but who exactly will be attending is currently being kept under wraps.
Fans may also be treated to a special performance by Cyrus herself.
Viewers attending at home can expect to laugh out loud, with jokes cracked by the internet favorite man right now, Pete Davidson. Not to mention, the entire party has been executively produced by SNL creator Lorne Michaels.
Speaking on The Tonight Show Starring Jimmy Fallon, Cyrus teased what fans can expect to see at the party.
She shared: "I wanted to do something that's traditional, but I knew that we would do it in a way that is unique and unconventional, and we did that by starting with going to Miami."
Cyrus then joked: "He'll [Davidson] be funny and I'll be naked, and together we've got a show."
All jokes aside, Cyrus reflected: "One thing I think that gets focused on a New Year's time is what's to come, being optimistic, being hopeful, about all these things that haven't happened yet that we have no proof are going to happen.
"We kinda erase everything that did happen, and we forget to honor it and look backward too."
Over the past week, Cyrus has been sharing some behind-the-scenes snaps of her, Davidson, and their musical guest stars rehearsing for the New Year's Eve Party.
Most recently, Miley gushed over rehearsing with Saweetie, who she described in an Instagram post as "the queen of my 2021."
Cyrus also shared a hilarious promo video where she asks Davidson about his New Year's Eve resolutions.
In response to the question, Davidson said: "I don't know, I usually make one then I don't follow it. So my New Year's resolution this year is to not have one so I don't let myself down again. To 2022."
Miley's New Year's Eve Party starts at 10.30 p.m. ET on NBC and Peacock on Friday, December 31.