How To Watch 'Mindhunter' Season 2: Serial Killer Show Plot, Characters and More
Fans of the fictionalized serial killer saga Mindhunter don't have to wait any longer for an up close look at some of American's most notorious killers. Season 2 of the ultra-popular true crime dramatization was released on Friday with nine new episodes.
The first season of Mindhunter aired in October 2017 and took a close look at characters Holden Ford and Bill Tench, two FBI agents working to categorize those who sadistically kill multiple people. The show is set in the late 1970s, and takes a deep look at what it took to name the "serial killer." The research takes the FBI agents deep into conversations with killers—played by actors but named as their real-life inspiration—and why they committed their crimes.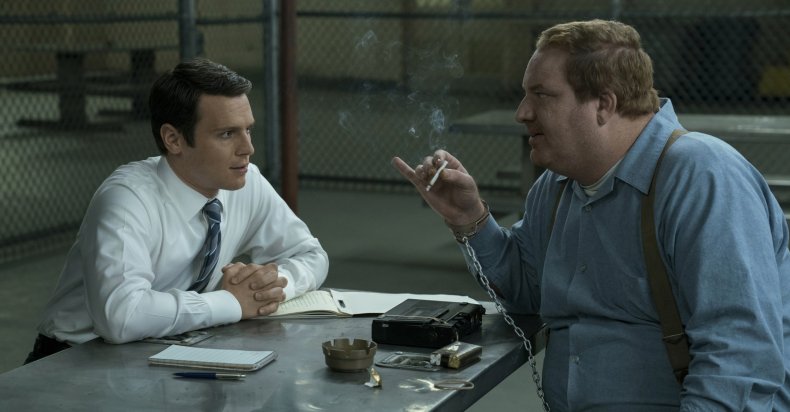 The show also takes a look at interview tactics used by FBI agents in forming relationships and open communication with the killers, helping to further their research. Here's what you need to know about Season 2, which you can watch now.
How To Watch
You can watch Mindhunter Season 2 now on Netflix. All you need is a Netflix subscription, as the show is a Netflix original series. If you don't have a subscription to Netflix yet, you can start a one-month free trial to gain access to all Netflix shows, including other popular original series like Making A Murderer and The Innocent Man.
To start a Netflix free trial, visit the streaming platform website. Be aware that you'll need to enter a credit card number that will be charged when your free month has ended.
What Is The Plot?
It's important to watch the entirety of Mindhunter Season 1 before diving into Season 2, as the second installment in the serial killers series picks up right where Season 1 left off. Critics seem to think this decision was because of the depth of the show, and how it's been almost two years since the first season was released, according to The Hollywood Reporter.
Two of the largest murder mysteries this season will be of BTK and The Atlanta Child Murders, two polarizing real-life cases. There's also a third case in Season 2 that critics seem to think is not entirely rooted in reality.
Netflix has not yet confirmed a third season of the show, though it's likely, like its other popular shows—see Stranger Things—the show is at least in consideration to continue the story in a third season.