Minecraft's Block by Blockwest digital music festival will stream online on Saturday after servers crashed in April and the festival was forced to be postponed.
The online festival, which is being produced by post-punks Courier Club, now has 10 terabytes of RAM after partnering with Digital Ocean to stream the festival on Saturday at 3 p.m. EST (12 p.m. PST). The festival is also raising money so proceeds can go to the Coronavirus Emergency Relief Fund.
To participate in the online festival, viewers will need to purchase a copy of Minecraft: Java Edition, if they do not already have one, "which will run you around the price of a single concert ticket," according to the video tutorial. Go to the multiplayer tab, and select "Add Server." Enter "fest.blockbyblockwest.com" into the Server Address bar when prompted and click "Done." When prompted, click "Direct Connect." A pop-up will invite viewers to join a Discord server where they can stream the audio and select which stage they want to hear from.
Viewers can also stream each stage on Facebook, YouTube and the Block by Blockwest website.
Unlike other online live streams, BXBW tries to emulate the festival-going experience by allowing users to move their avatars around the three stages, play mini-games, check out art displays and buy merch (which then links to the artist's official merch store). Each performer will have specialized backdrops and skins for their avatars on the corresponding stage and will be able to interact with the digital audience.
The lineup for BXBW boasts emo rapper Nothing Nowhere, indie rock outfit Sir Sly, Russian protesters P***y Riot, alt-rockers the Wrecks, hardcore darlings Knocked Loose, rap-rock band Fever 333, noise-pop group Cherry Glazerr and more.
The Wrecks frontman Nick Anderson said that the unique festival was a way to make up for missing out on tour due to the COVID-19 pandemic. "Missing tour is very similar to feeling homesick," Anderson said in a statement. "We're grateful that BXBW put together an event that allows us to perform on a virtual festival stage and actually see the crowd. I'm excited to walk around and check out the art and merch, as well as listen to what other artists have put together for the event."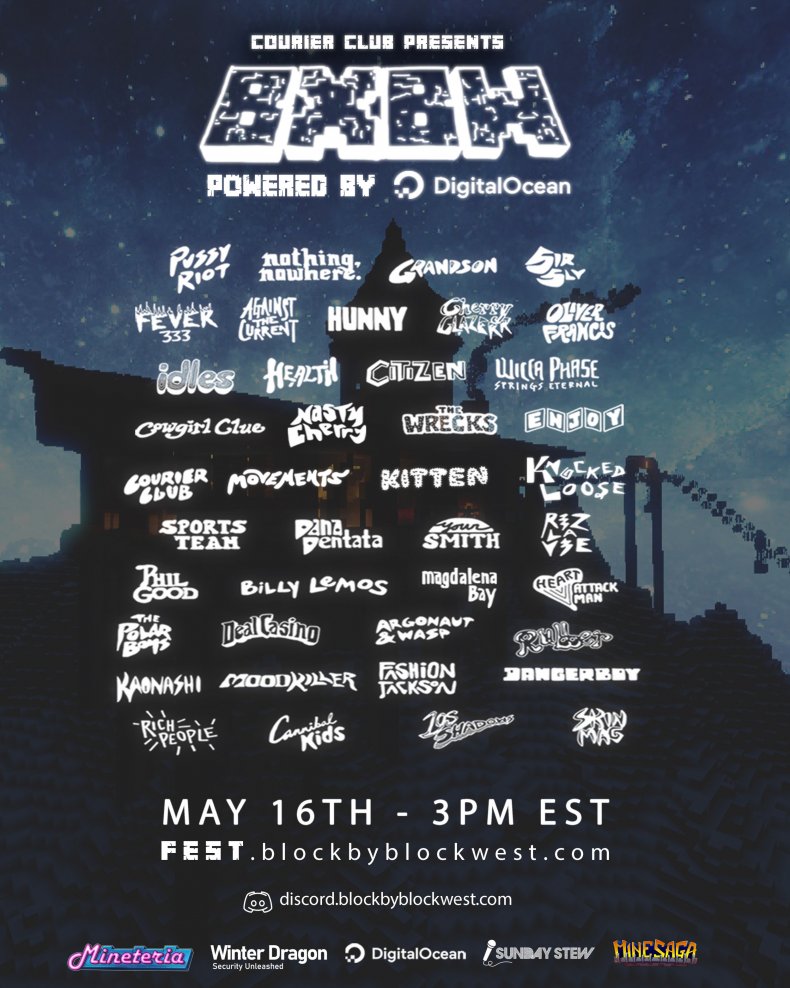 The festival had originally been scheduled for April 25, but its servers were not able to support the huge amount of attendees trying to get into the festival at once, according to Brooklyn Vegan. "We are sorry to do this but due to the massive demand, our servers were unable to accommodate the influx of attendees at this time. We don't want to compromise the experience of your performance or the attendee's experience anywhere in the festival grounds," BXBW organizer DJ Sutera wrote at the time.