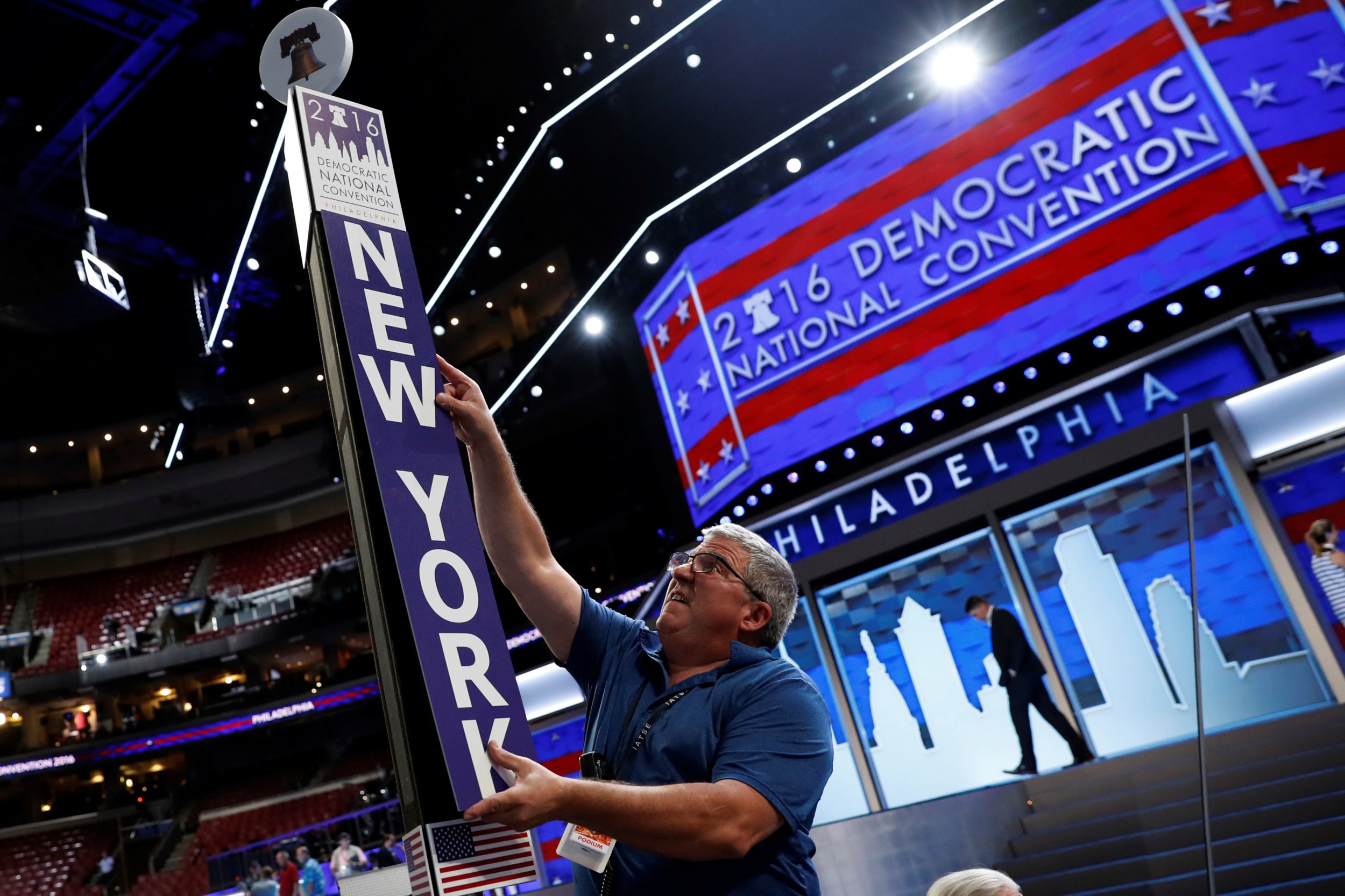 Updated | "United Together" is the theme inside the Wells Fargo Center Monday as the Democratic National Convention officially kicks off in Philadelphia. Headliner speeches from Vermont Senator Bernie Sanders and first lady Michelle Obama are expected to be among the highlights of the day.
Outgoing Democratic National Committee Chairwoman Debbie Wasserman Schultz, who on Sunday announced she soon would step down, won't gavel in the gathering as had been planned, it was announced Monday. Her resignation came after WikiLeaks posted dozens of emails showing her staff working to undermine Bernie Sanders's campaign, in an effort to aid Hillary Clinton, who is slated to accept the Democratic presidential nomination this week. Following the turmoil over the weekend, Schultz on Monday morning was booed when she spoke during a breakfast for Florida delegates in Philadelphia.
Clinton granted Sanders an early speaking slot at their party's national convention, even though Sanders refrained from endorsing her for weeks after the final primary-season contest ended in June. When he did officially back Clinton earlier this month, he said he wanted to ensure she would beat Donald Trump in November. Trump became the official Republican presidential nominee last week at his party's national convention in Cleveland.
The four-day event, which ends Thursday, centers around Clinton's "Stronger Together" slogan. Monday will focus on the future of American families, with a speech from DREAMer Astrid Silva. DREAMers are young undocumented immigrants who arrived in the United States as children.
The gavel time is scheduled for 4 p.m. Eastern time Monday. The following is a list of the day's speakers. The DNC has not released a specific speaking order:
Pam Livengood, of Keene, New Hampshire, personally affected by the growing substance abuse epidemic
Karla Ortiz, of Las Vegas, and her mother, Francisca Ortiz, an undocumented immigrant
Anastasia Somoza, former intern for Clinton in the U.S. Senate
Astrid Silva, DREAMer
Keith Ellison, U.S. representative of Minnesota
Lily Eskelsen Garcia, president of National Education Association
Raul Grijalva, U.S. representative of Arizona
Mike Gronstal, Iowa Senate majority leader
Democratic Legislative Campaign Committee candidates
Mary Kay Henry, president of Service Employees International Union
Joe Kennedy, U.S. representative of Massachusetts
Dan Malloy, chairman of the Democratic Governors Association and governor of Connecticut
Sean McGarvey, president of Building Trades
Jeff Merkley, U.S. senator of Oregon
Linda Sanchez, U.S. representative of California
Congressional Hispanic Caucus members
Lee Saunders, president of American Federation of State, County and Municipal Employees
Richard Trumka, president of American Federation of Labor and Congress of Industrial Organizations
Randi Weingarten, president of American Federation of Teachers
Marty Walsh, mayor of Boston
Cory Booker, U.S. senator of New Jersey
Elizabeth Warren, U.S. senator of Massachusetts
Bernie Sanders, U.S. senator of Vermont and onetime Clinton presidential rival
Michelle Obama, first lady of the U.S.
The Democrats' convention takes place just four days after the Republicans concluded their gathering in Cleveland. There, much of the rhetoric focused on their anger at how Clinton responded to the 2012 attack on the U.S. Consulate in Benghazi, Libya, as secretary of state, as well as their frustration with the FBI for not punishing her for using a personal email server during her tenure in the Obama administration.
As the national conversation was shifting away from the events that occurred at the RNC, Clinton on Friday night announced Virginia Senator Tim Kaine as her running mate. They made their first joint appearance in Miami on Saturday.
There are several different ways to follow the convention. CNN is offering 24-hour coverage across its platforms. C-SPAN will broadcast from noon until 9 p.m. Eastern time. Twitter has partnered with CBS News to offer live coverage on CBSN. And PBS and NPR together will offer coverage from 8 to 11 p.m. each night of the convention.
The major news networks will devote daily prime-time coverage to the event. Both the DNC website and DNC YouTube channel will provide a live stream online.
This story has been updated to include additional speakers and Schultz'​s decision not to gavel in the convention.