How to Watch Nancy Pelsosi's CNN Town Hall as House Advances Impeachment Inquiry
House Speaker Nancy Pelosi will participate in a CNN town hall Thursday at 9 p.m. ET, the network announced last month, where she will likely field questions about impeachment proceedings against President Donald Trump.
Jake Tapper, CNN's chief Washington correspondent, will moderate the event from Washington, D.C., against the backdrop of an impeachment case quickly making its way through House procedures.
Tuesday, the House Intelligence committee adopted and released a 300-page report on its findings against the president. Wednesday, the House Judiciary Committee effectively took over and hosted its first impeachment hearings.
The intelligence committee will continue to investigate Trump, but it's the judiciary committee that decides whether to charge him with "high crimes and misdemeanors"—one of several impeachable offenses outlined in the constitution.
Pelosi announced the impeachment inquiry on September 24, after a whistleblower filed a complaint citing Trump's alleged efforts to withhold military aid from Ukraine while he pressured the country to investigate Joe Biden, a possible political rival in 2020.
Three constitutional scholars told the House Judiciary Committee on Wednesday that these efforts constituted high crimes and misdemeanors and even bribery, another impeachable offense. They were invited by Democrats, while one scholar invited by Republicans said the case against the president is "premature."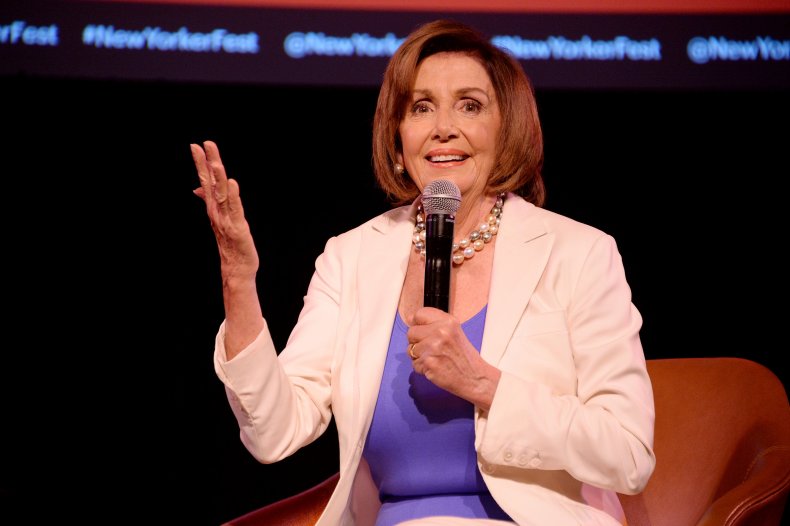 Democrats expect the committee will conclude its work and produce articles of impeachment within the next two weeks, according to reporting by The Guardian, which Pelosi may discuss further at tonight's town hall.
Other pressing topics include the December 20 deadline to fund the government, a trade deal with China and legislation meant to lower the cost of prescription drugs, CNN reported.
The town hall forums are known for their incorporation of a "cross-section" of voters that ask candidates and lawmakers probing political and personal questions.
Earlier this week, a 17-year-old high school senior asked Senator Elizabeth Warren if there was a time in her life "where somebody you really looked up to maybe didn't accept you as much?"
In response, Warren shared her mother's disappointment over the end of her first marriage.
"And there came a day when I had to call her and say, 'This is over. I can't make it work.' And I heard the disappointment in her voice. I knew how she felt about it. But I also knew it was the right thing to do and sometimes you just gotta do what's right inside and hope that maybe the rest of the world will come around to it. And maybe they will, maybe they won't, but you gotta take care of yourself first," Warren told the Iowa audience at CNN's town hall.
Tonight's event will air on CNN's cable channels, which vary by location. It's also available CNN.com's homepage. For mobile-friendly platforms, viewers can use CNNgo apps for iOS and Android phones as well as Apple TV, Roku, Amazon Fire, Chromecast and Android TV.
For listeners, rather than viewers, folks can visit SiriusXM Channels 116, 454, 795 and the Westwood One Radio Network, according to CNN.