How to Watch NASA Spacewalk Outside International Space Station Live
On Tuesday, two astronauts will conduct a spacewalk outside the International Space Station (ISS) and you can watch the crew go about their work live.
NASA will be broadcasting the spacewalk, which will involve their astronaut Mark Vande Hei and a colleague from the Japan Aerospace Exploration Agency (JAXA,) Akihiko Hoshide, on the U.S. space agency's website, app and TV channel.
Coverage will begin at 7 a.m. EDT on Tuesday, with the astronauts scheduled to exit the ISS at around 8:30 a.m. In total, the spacewalk will last for roughly six hours and 50 minutes.
NASA will also be providing coverage of a news conference at 2 p.m. EDT on Monday during which tomorrow's spacewalk will be discussed. The event can be viewed on NASA TV's official streamon YouTube.
The main goal of the spacewalk is to install a support bracket, known as a modification kit, in preparation for the future installation and deployment of a new solar array.
Several new solar arrays are being added to the ISS in order to ensure that it has a sufficient power supply for upcoming experiments and future missions.
Two of these solar arrays have been installed already, with tomorrow's spacewalk laying the groundwork for the fitting of the third in 2022.
The solar array will upgrade one of the station's eight power channels, known as 4A, which provides partial power to the U.S. Laboratory, the Harmony module, and the Columbus module.
The upcoming spacewalk will be Hoshide's fourth and Vande Hei's fifth. It will also be the 242nd conducted in support of assembly, maintenance and upgrade tasks on the ISS—a multinational collaborative project involving NASA, the European Space Agency, JAXA and the space agencies of Russia (Roscosmos) and Canada (CSA.)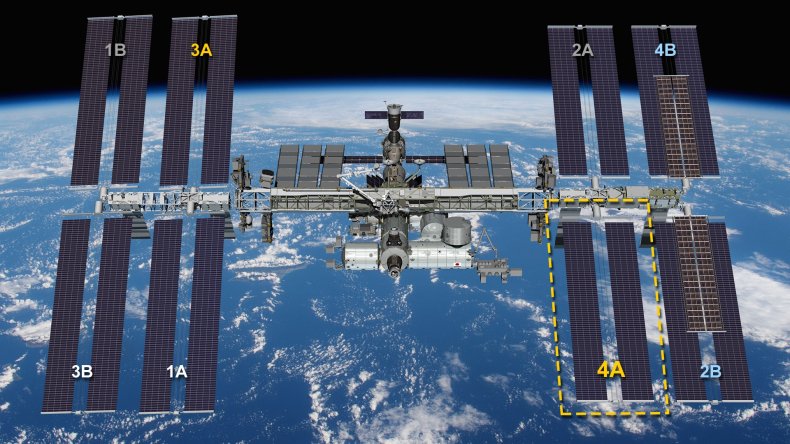 The original solar arrays on the ISS are still functioning well, but they have begun to show signs of degradation.
This was expected as the first pair of original solar arrays were deployed in December 2000 and are still powering the station, despite only being designed to last for 15 years.
In November 2020, the ISS marked 20 years of continuous human presence. In this time, 244 people from 19 countries have visited the orbiting laboratory, conducting nearly 3,000 research investigations.
The ISS is 357 feet from end to end, which is just one yard shy of the full length of an American football field, including the end zones, according to NASA.
The space station has a mass of 925,335 pounds and a habitable volume of 13,696 cubic feet, not including visiting vehicles, of which it can host eight at a time.