How to Watch the New Camila Cabello 'Cinderella' Online for Free
Camila Cabello is turning her hand to fairy tales in the latest live-action version of Cinderella. This adaptation offers a modern take on the much-loved story, with feminist themes and a gender non-conforming fairy godparent.
Critics have given the new Cinderella mixed reviews. But fans of the 24-year-old singer—and the rest of the film's all-star cast—will no doubt be keen to see the movie.
Is 'Cinderella' Available to Stream?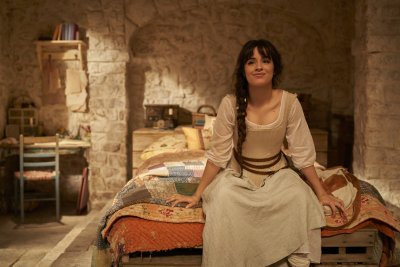 The fans' wishes will come true easily, as the movie is available to stream right now.
This is not a Disney Cinderella—the movie has been made by Sony Pictures based on the Charles Perrault story—so viewers won't find it on Disney+.
It is streaming on Amazon Prime Video, so people with an Amazon Prime subscription can watch the movie as part of their membership.
There is even the option for Cabello or Cinderella mega-fans to chat with others as they watch.
What Is the New 'Cinderella' About?
This version portrays the heroine as a budding dressmaker. Cabello's Cinderella does not want to attend the ball for love, but to try to find investors for her business.
Her stepmother Vivian (Idina Menzel) does not want her to attend for fear it will embarrass the family, but Cinders knows she needs to get there to kick-start her own life.
Thankfully, Fab G the fairy godparent (Billy Porter) arrives to help her get to the ball, first dressing her in business attire before realizing she should showcase her gorgeous gowns.
On her arrival, however, Cinderella gets more than she bargained for when the prince (Nicholas Galitzine) shows interest in her.
In this version, the Wicked Stepmother isn't trying to keep Cinderella away from the prince. Instead, Vivian pushes her stepdaughter to help her family by marrying into royalty.
Cinderella wants to stand on her own two feet, however, rather than belonging to her stepmother or to the public as a princess.
The Soundtrack of 'Cinderella'
The soundtrack contains some original music, but is dominated by new versions of pop tunes that fans will know and love.
The "jukebox musical" songs include Janet Jackson's "Rhythm Nation," Queen's "Somebody To Love," Madonna's "Material Girl" and "Let's Get Loud" by Jennifer Lopez, written by Gloria Estefan.
The main original track is "Million To One," which is sung by Cabello and reprised on several occasions.
Cinderella and its soundtrack are out now