NYE Times Square: How To Watch the Scaled Back Celebrations
New York City is holding a "scaled back" version of the Times Square New Year's Eve ball drop event amid the ongoing COVID-19 pandemic and the threat of the Omicron variant.
The Big Apple's beloved annual New Year's Eve celebration will take place with some additional safety measures in place, such as masking and vaccination requirements.
The event, which normally hosts around 58,000 people in viewing areas, this year will be limited to 15,000 guests to adequate space for social distancing. Visitors will also not be allowed entry to the viewing areas until 3:00 p.m. local time, which is much later than previous years, according to a statement Thursday from the mayor's office.
New York City Mayor Bill de Blasio stated: "We are leading the way on vaccinations, we have reopened safely, and every day we work toward building a recovery for all of us.
"There is a lot to celebrate and these additional safety measures will keep the fully vaccinated crowd safe and healthy as we ring in the New Year," the mayor added.
What Time is the Times Square New Year's Eve Celebration?
According to the official Times Square website, the celebration begins shortly before 6 p.m. ET.
At around 6 p.m. ET, the Times Square New Year's Eve ball will be raised to the top of the pole at One Times Square (Broadway at 43rd Street).
Then later at precisely 11:59pm ET, the ball will make its 60-second descent down the flagpole to ring in the New Year.
How To Watch the Times Square New Year's Eve Ball Drop
Viewers can catch the event live in person as well as on television and online via different channels.
In-Person
Those attending the ball drop event in person are required to wear face coverings as well as show valid photo identification and proof of "full vaccination" against COVID-19.
This means that on December 31, 2021, the guest must be "at least 14 days after their second dose of a two dose COVID-19 vaccine or at least 14 days after their single dose of an approved single dose COVID-19 vaccine."
COVID-19 can be demonstrated via the following ways:
Using the NYC COVID Safe App
Using the New York State Excelsior App
CLEAR's Digital Vaccine Card
CLEAR Health Pass
A photo or hard copy of your CDC vaccination card
An official vaccination record of a vaccine administered outside the United States.
Those unable to get vaccinated due to a disability will be required to show proof of a negative COVID-19 PCR (Polymerase Chain Reaction) test taken within 72 hours prior to the ball drop event, the mayor's office advised.
To attend the event in person, all guests will have to enter from Sixth or Eighth Avenue. As needed, the blocks will be closed off by police as they fill up northward, street by street.
The exact times for when the blocks will be closed to pedestrian and vehicular traffic will depend on when visitors begin arriving.
Previously, vehicle traffic from 45th Street through 48th Street in Times Square was closed by the early morning, while by 3 p.m. local time, the streets were closed from 42nd Street to 49th Street between Sixth and Eighth Avenue.
The Times Square website also advises visitors will not be able to return to the Square after leaving the event for any reason.
On Television
Several broadcast networks will be airing elements of the Times Square celebration. Detailed information on the New Year's Eve television broadcast pool feed can be found at the Times Square website.
Online
The event will be available to view via a commercial-free webcast from 6 p.m. ET on December 31 to 12:15 a.m. on January 1, 2022, featuring the raising of the ball, live music performances and hourly countdowns.
The webcast will be streamed live on several websites, including TimesSquareNYC.org, NewYearsEve.nyc, LiveStream.com/2022 and TimesSquareBall.net.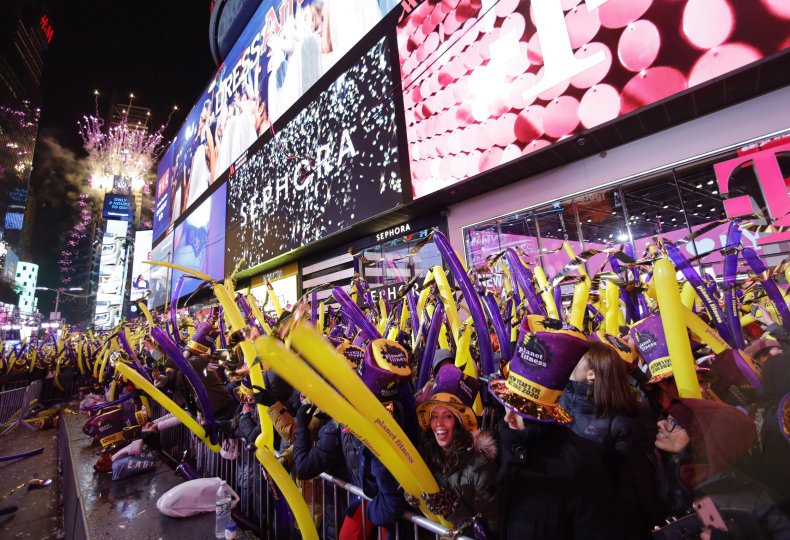 Times Square New Year's Eve Facts
The first rooftop celebration on Times Square was a fireworks display which took place in 1904 by The New York Times to inaugurate its new headquarters in the area.
The first New Year's Eve Ball lowering celebration atop One Times Square occurred three years later in 1907.
Since then, seven versions of the Ball have been designed to signal the New Year.
Last year's event witnessed numerals standing seven-feet high and weighed 1,080 pounds.
More than one ton of confetti drops in Times Square during the most recent New Year's Eve celebration.