How to Watch Obama Join Georgia Democrats Ossoff and Warnock in Virtual Rally Ahead of Senate Runoffs
Former President Barack Obama will campaign for the two Georgia Senate Democrats on Friday ahead of the state's crucial runoff elections.
The event is being billed as a virtual get-out-the-vote rally ahead of the state's December 7 voter registration deadline and the start of early voting on December 14. Obama will appear along with Democratic candidates Jon Ossoff and Raphael Warnock, as well as former gubernatorial candidate Stacey Abrams and Congresswoman-elect Nikema Williams.
Those interested in participating in the rally, which starts at 2:45 p.m. Eastern time, can register online through the Georgia Democratic Party's website. There will also be a livestream available on the party's YouTube and Facebook pages to watch the discussion.
In a statement, Ossoff said the event "will inspire this historic statewide movement to generate record-shattering turnout so we can end this COVID crisis, deliver affordable health care for all Georgians, and pass a new Civil Rights Act."
Warnock said he was "deeply honored" to have Obama's support and to have a conversation about the issues facing the state.
"We need leaders in Washington who will commit to putting the people first," he said in a statement. "Health care is on the ballot, relief for those impacted by the coronavirus is on the ballot, voting rights are on the ballot, and that is why we need every Georgian to get engaged and help turn out the vote."
Obama campaigned in person for Warnock and Ossoff ahead of the November 3 general election. But because none of the Senate candidates crossed the 50 percent vote threshold, the races will be determined by a runoff election next year.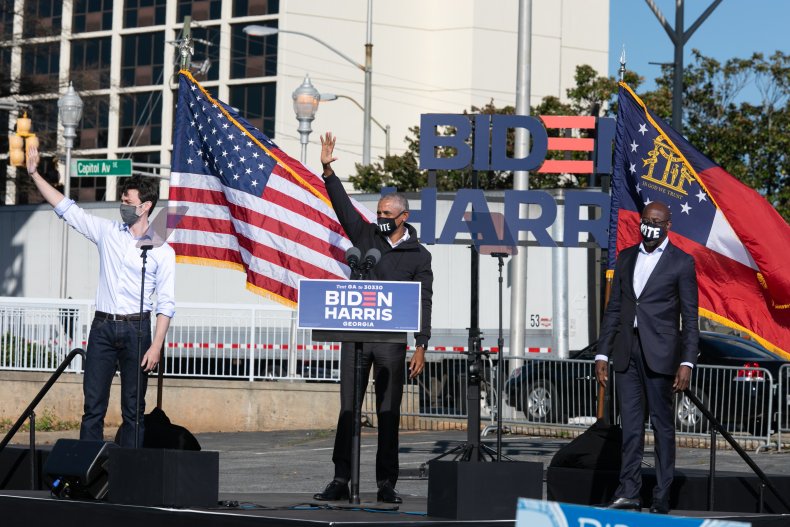 The outcome of the Senate runoffs will determine which party controls the upper chamber in the next Congress. Republican Senator Kelly Loeffler will face Warnock, and Republican Senator David Perdue will face Ossoff in the January 5 contests.
Right now, Republicans are set to control at least 50 seats in the next Senate, based on election results, and Democrats will have 46 seats. Two independent senators caucus with the Democrats, bringing their total to 48.
If both Ossoff and Warnock win their runoffs, party control of the Senate would be split 50-50. Democratic Vice President-elect Kamala Harris would then be responsible for casting a tie-breaking vote when the chamber is deadlocked on legislation.
As Obama stumps for Democrats virtually, Republicans will hold in-person events this weekend with President Donald Trump and Vice President Mike Pence. Pence will team up with Perdue and Loeffler at a "Defend the Majority Rally" in Savannah on Friday. Trump will hold a "Victory Rally" on Saturday at Valdosta Regional Airport.
But Georgia Republican officials have expressed concern that Trump's continuous attacks on the legitimacy of the 2020 election—which he still refuses to concede—will depress turnout in the Senate runoffs. The president has repeatedly criticized Georgia Governor Brian Kemp, falsely insisting that he won the state and that voter fraud was rampant. His allegations have been supported by Loeffler and Perdue. As a result, threats have been made targeting the state's elections workers.
During an interview with CNN earlier this week, Lieutenant Governor Geoff Duncan urged the president and the Republican Party to change their post-election approach.
"In the short term, we run the risk of alienating voters for our Senate race that is coming upon us for Senator Loeffler and Senator Perdue, and we need them," Duncan said. "As a Republican, I want them in that Senate."