How to Watch the 'Parks and Recreation' Charity Special
On Thursday, NBC announced that Parks and Recreation would air a new, special scripted episode to aid Feeding America with State Farm.
The brand new episode will air on NBC on April 30 at 8:30 p.m. ET/PT and be available to stream on Peacock TV the following day. All of the principal players will be involved: Amy Poehler, Rashida Jones, Nick Offerman, Aziz Ansari, Aubrey Plaza, Chris Pratt, Adam Scott, Jim O'Heir, Retta, and Rob Lowe. This will be the first time they're all reunited for a Parks and Rec story since the beloved sitcom ended in 2015.
For those itching to revisit the streets of Pawnee, unfortunately you won't be able to see any of the show's iconic sets; the whole episode was shot from the cast members' various homes, due to the coronavirus pandemic.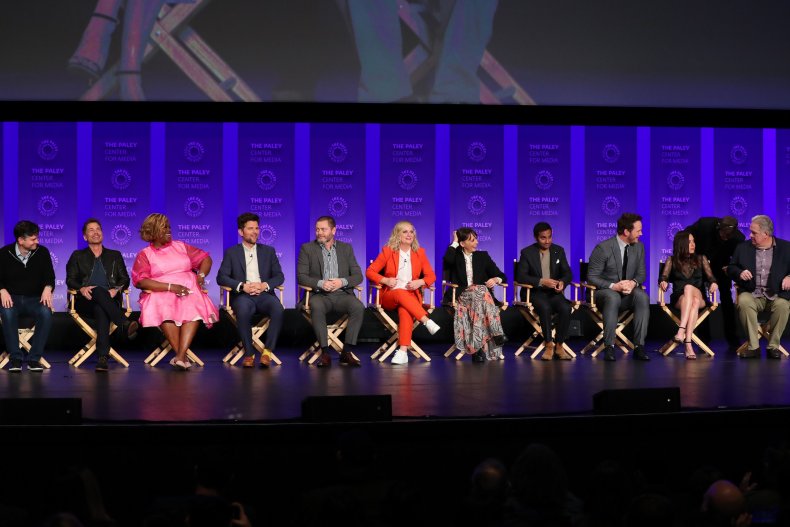 In a press release, NBC announced that the episode is inspired by the COVID-19 pandemic and focuses on Leslie Knope trying to stay in touch with her friends while in quarantine. Parks and Rec executive producer Michael Schur said that he thought getting the Pawnee crew back together would be a great way to raise money, and the cast responded enthusiastically.
"Like a lot of other people, we were looking for ways to help and felt that bringing these characters back for a night could raise some money," Schur said in a statement. "I sent a hopeful email to the cast and they all got back to me within 45 minutes. Our old 'Parks and Rec' team has put together one more 30-minute slice of (quarantined) Pawnee life and we hope everyone enjoys it. And donates!"
Of course, the network agreed that Leslie Knope was a perfect choice to bring some light in a difficult time. "In such uncertain times, we can't think of anyone better than Leslie Knope to unite our country with her unbridled enthusiasm and compassion," NBC Entertainment co-presidents of scripted programming Lisa Katz and Tracey Pakosta said in a statement. "A huge thank you to Mike Schur and the cast of 'Parks and Recreation' for putting this wonderful special together and bringing a smile to all our faces while raising money for such a worthwhile cause."
Besides benefiting a great cause, it's also an opportunity for fans to check in on their favorite characters and see how they respond to a global pandemic. It's easy to imagine that Tom and Donna have taken the time for a virtual treat-yo'-self day of extravagant online shopping, and that Ron's wondering why the government is telling him he's not allowed to go out for a meal. How else is he supposed to eat all of the bacon and eggs?