How to Watch Philadelphia Eagles vs. Tampa Bay Buccaneers Wild Card Game
The NFL playoffs continue Sunday in the Super Wild Card weekend with the Tampa Bay Buccaneers looking to defend their Super Bowl title with a home game against the Philadelphia Eagles.
Buccaneers quarterback Tom Brady begins his quest for an eighth Super Bowl ring against a rookie quarterback, Jalen Hurts, on the other side.
Brady this season led the Buccaneers to their first NFC title since 2007. The Buccaneers are the No. 2 seed in the NFC behind Green Bay, and a win Sunday would grant Tampa Bay another home game in the divisional round next weekend before a looming showdown in the NFC Championship against Aaron Rodgers and the Packers for a second-straight year.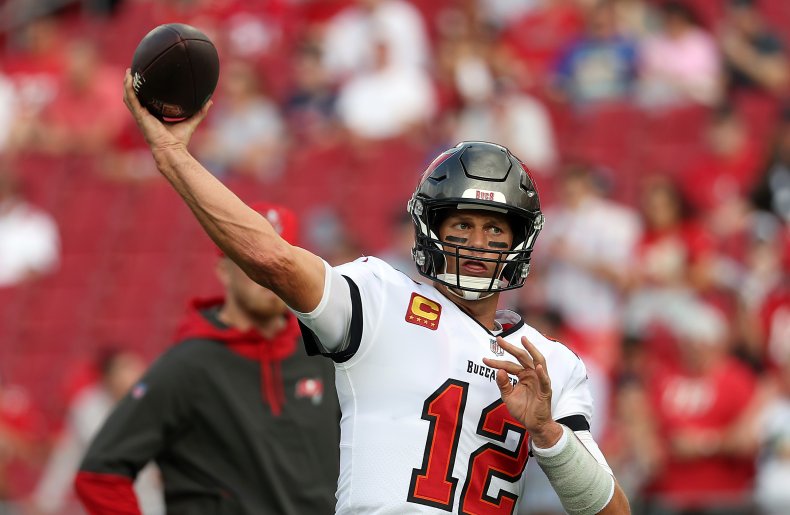 The Eagles have made the playoffs four of the past five seasons, but this is the first under coach Nick Sirianni, who took over the helm this season.
Here's everything to know about the Eagles-Buccaneers game on Sunday.
Philadelphia Eagles at Tampa Bay Buccaneers
Sunday, Jan. 16, 2022, 1:05 p.m ET
Raymond James Stadium
Records: Philadelphia (9-8); Tampa Bay (13-4)
Referee: Craig Wrolstad
TV: FOX
National Radio: Westwood One
SIRIUS: 82 (Phi.), 81 (TB), 88 (National)
XM: 225 (Phi.), 226 (TB), 88 (National)
SXM App: 826 (Phi.), 829 (TB)
Favorite: Tampa Bay (-7.5) — According to FanDuel
Over/Under: 46
Weather: 66 degrees at kickoff, winds at 20-25 mph
All-time head-to-head: Series tied, 8-8
Playoffs head-to-head: Series tied, 2-2
All-Time Playoff records: Philadelphia (23-23, .500); Tampa Bay (10-9, .526)
Last postseason game:
Philadelphia — Lost, 17-9 vs Seattle (1/5/20)
Tampa Bay — Won, 31-9 vs Kansas City (2/7/21)
Quick Hits
These are the only two NFC teams to win a Super Bowl in the last seven seasons. Tampa Bay won the title last season, and the Eagles defeated the New England Patriots four seasons ago. Tampa Bay's Tom Brady was the quarterback of that New England team from the 2017 season.
Philadelphia led the NFL in rushing offense (159.7 per game) and rushing touchdowns (25) this season.
The Eagles this season became only the fifth team in the Super Bowl era to rack up 175-plus rush yards in seven-consecutive games (Weeks 8-15), last accomplished by the 1985 Chicago Bears, who had Walter Payton and won the Super Bowl that year.
On the flip side, Tampa Bay's defense led the NFL in rushing defense with only 92.5 yards allowed per game.
Buccaneers quarterback Tom Brady led the NFL in passing yards (a career-high 5,316 yards) and passing touchdowns (43). His yardage was the third-most in a single season all-time. Brady's 485 completions were the most in single-season all-time.
Eagles quarterback Jalen Hurts, who'll be the fourth quarterback in just three games this year to make his postseason debut, led all NFL signal callers in rushing yards (784) and rushing touchdowns (10) this season. Hurts has five career games with 2-plus rushing touchdowns, which is the most by a quarterback in his first two seasons in the Super Bowl era.