How to Watch Obama's Remarks About George Floyd If You Missed Them
On Wednesday, former President Barack Obama gave his first on-camera remarks following the death of George Floyd.
Obama spoke as part of My Brother's Keeper Alliance Town Hall series for a discussion called,"Reimagining Policing in the Wake of Continued Police Violence." Obama spoke after remarks from MBK Alliance executive director Michael Smith and Columbus, OH MBK youth leader Playon Patrick.
Obama's remarks as well as the whole town hall can be found on YouTube in the live stream (shared above). Obama's remarks begin about seven and a half minutes into the live stream.
After his remarks, a panel discussion began with Patrick, former Attorney General Eric Holder, Color of Change executive director Rashad Robinson, Minneapolis City Council Member Phillipe Cunningham, and Obama. The conversation was moderator Campaign Zero co-founder and former member of President Obama's 21st Century Policing Task Force Brittany Packnett Cunningham.
Obama began his address by acknowledging the pain that so many Americans have been feeling. "All of us have been feeling pain, uncertainty, disruption-some folks have been feeling it more than others. Most of all the pain that's been experienced by the families of George and Breonna [Taylor] and Ahmaud [Arbery] and Tony [McDade] and Sean [Reed] and too many others to mention. Those that we thought about during that moment of silence," he said. "And to those families who have been directly affected by tragedy, please know that Michelle and I and the nation grieve with you, hold you in our prayers. We're committed to the fight of creating a more just nation in memory of your sons and daughters."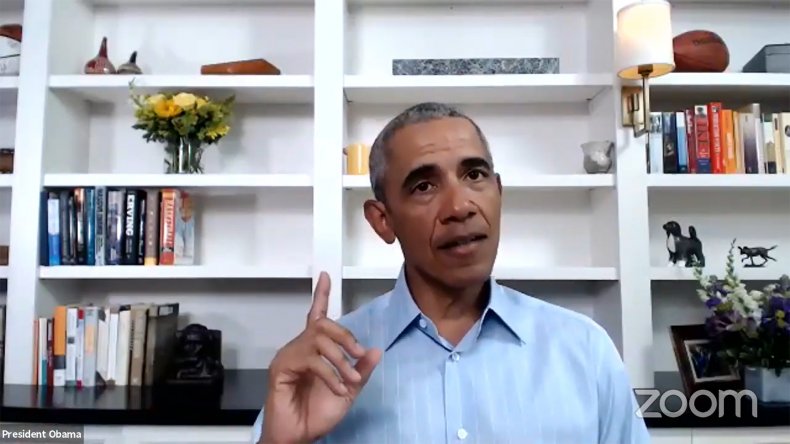 In the address, which is about 15 minutes long, the former president speaks to the protests that have been sparked following Floyd's death, as well as the deaths of Breonna Taylor, Ahmaud Arbery, Sean Reed, Tony McDade and more. Obama said that he was hopeful "that so many young people have been galvanized and activated and motivated and mobilized because historically so much of the progress that we've made in our society has been because of young people," and mentioned that other leaders like Dr. Martin Luther King, Jr., Malcolm X, Cesar Chavez, and leaders of the feminist, environmental, and union reform movements, as well as people who fought for LGBT rights, were all young.
"When sometimes I feel despair, I just see what's happening with young people all across the country and the talent and the voice and the sophistication that they're displaying, and it makes me feel optimistic. It makes me feel as if this country is going to get better," Obama said.
Obama also spoke specifically to young people of color and said that even though they're angry and have been treated unfairly, he said that he hoped that they're aware of the changes that their protests have "helped to make the entire country feel as if this is something that's got to change."
"You've communicated a sense of urgency that is as powerful and as transformative as anything that I've seen in recent years," he said.
Obama also spoke about police who have joined the protesters and voiced support for police. "There are folks out there who took their oath to serve your communities and your countries, have a tough job, and I know you're just as outraged about tragedies in recent weeks as are many of the protesters," he said. "I've been heartened to see those in law enforcement who've recognized, 'let me march along with these protestors, let me stand side by side and recognize that I want to be part of the solution,' and who've shown restraint and volunteered and engaged and listened, because you're a vital part of the conversation."
Obama also spoke about the importance of voting alongside protests. "To bring about real change, we both have to highlight a problem and make people in power uncomfortable, but we also have to translate that into practical solutions and laws that can be implemented and we can monitor and make sure we're following up on," he said, before highlighting reforms that could be made. Those changes included evidence-based reforms, having mayors review force policies, and having every city be a My Brother's Keeper community.
Before closing, the former president highlighted the importance of the protests in shifting public opinion and said that while some violence has been focused, many Americans still support the protests and feel they are justified. "There is a change in mindset that's taking place, a greater recognition that we can do better. That is not as a consequences speeches by politicians. That's not the result of spotlights in news articles. That's a direct result of the activities and organizing and mobilization and engagement of so many young people across the country who put themselves out on the line to make a difference," he said.