How to Watch 'RBG,' the Ruth Bader Ginsburg Documentary
Subscribers to a popular video streaming platform who want to learn more about the long life and legal career of Supreme Court Justice Ruth Bader Ginsburg, who died on Friday, can watch the acclaimed documentary RBG as part of their subscription.
RBG is currently available to stream on Hulu. Many who have public library cards, along with some college students, can also stream the documentary for free using Hoopla and Kanopy, which offer content to U.S. libraries and universities. The film can also be rented or purchased from multiple sources, including rentals from Redbox for $1.99, Amazon Prime Video for $2.49, YouTube for $2.99 or iTunes for $3.99.
The documentary chronicles the life of Ginsburg beginning with her birth and Jewish upbringing in Brooklyn, New York, through her education and early work as a law professor and lawyer, to her eventual rise to prominence as a cultural icon and legal dynamo on the nation's top court.
Ginsburg's experiences of sexual discrimination and her subsequent groundbreaking work for women's equality in the courts is shown in detail. The circumstances that led to her being nominated to the Supreme Court by former President Bill Clinton in 1993, and her confirmation by the Senate, serve as a prelude to moments from more than two decades of fiery dissents and decisions while serving on the court.
The film recalls Ginsburg's strong friendship with her conservative colleague Supreme Court Justice Antonin Scalia, which lasted until Scalia's 2016 death. Despite their ideological differences, the pair shared a mutual respect and a love for opera. Ginsburg is shown making her own cameo appearance in a live opera, something she did multiple times during her life.
RGB also examines Ginsburg's family life. Ginsburg met her husband Martin Ginsburg, who would also become a lawyer, when both were young students at Cornell University. The couple married in 1954 and had two children, Jane and James. Ginsburg's relationship with her granddaughter, who followed in her footsteps by going into law, is featured in the film.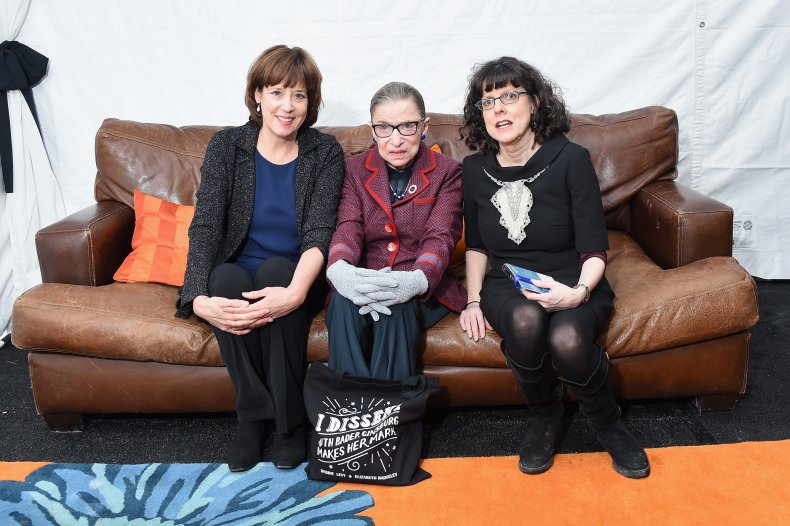 Another aspect of Ginsburg's life that the film explores is her place in pop culture, including the online origins of her "Notorious RBG" nickname. Ginsburg offers her thoughts on the late rapper Notorious B.I.G. in one of the documentary's lighter moments.
RGB was critically acclaimed and earned numerous accolades for Betsy West and Julie Cohen, the film's directors and producers, including an Academy Award nomination and an Emmy win. It was also financially successful, earning over $14 million at the box office, a large amount for an independent documentary.
"Like so many Americans, we are crushed by the death of Justice Ruth Bader Ginsburg," West and Cohen told Newsweek in a statement. "Even had she not become the second woman to serve on the U.S. Supreme Court, Ginsburg earned a place in history for what she did as a litigator to win equality for American women."
"When we asked her several years ago how she wanted to be remembered, she said with characteristic modesty, 'Just as someone who did whatever she could, with whatever limited talent she had, to move society along in the direction I would like it to be for my children and grandchildren,'" they added.