How to Watch 'Salute to America 2020' This Independence Day Weekend
On July 4, President Donald Trump will host his second "Salute to America," after debuting the idea in 2019. This year, roughly 1,700 servicemen and women will participate in the national event.
Salute to America is a military-meets-history event, which sees a list of flyovers in cities prominent during the American Revolution. But this flyover will also include Mount Rushmore, in addition to major U.S. cities like New York City, New York, Boston, Massachusetts, Baltimore, Maryland, Philadelphia, Pennsylvania, and of course, Washington D.C.
The United States Department of Defense announced the plan in a press release on Friday. "DOD will provide aerial, musical and ceremonial support to this year's celebration in Washington, D.C. " it read, in part. The press release also said details on exact flyover times are not yet known but will become available before the event. So how can you watch it all happen?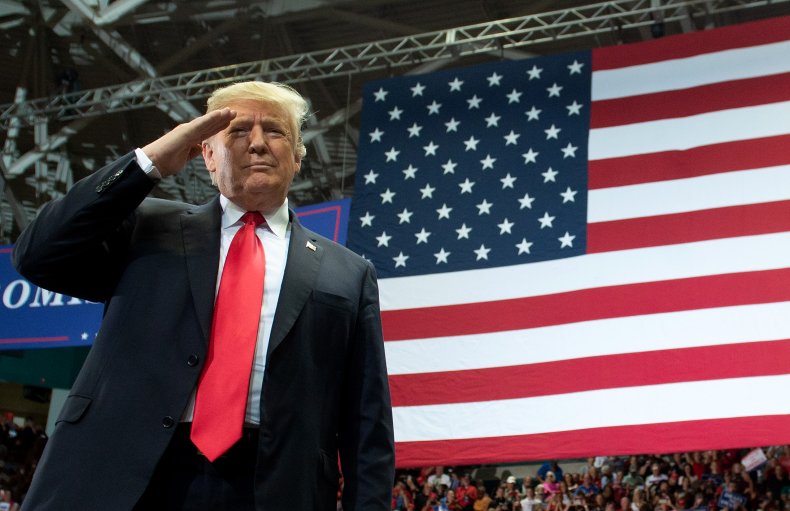 If you're in one of the major cities that the military plans to fly by, you'll be able to step outside and see or hear the action from your front door. But regardless of where you are, the Salute to America event will be live on television.
Last year, Fox News and C-Span aired live coverage of the events. Fox News confirmed to Newsweek that they will have live coverage of Salute To America on Saturday, so viewers around the country can tune in via the Fox News network.
C-Span also told Newsweek they'll air Trump's speech at Mount Rushmore live on July 3 at 10 a.m. ET.
In 2019, Trump gave a speech in front of the Lincoln Memorial to commemorate America's freedom.In fact, it was the first time in 68 years since a sitting president has done so. This year, he and wife Melania Trump are scheduled to host the event from the South Lawn of the White House on July 4, The Hill reported.
Last year, the cost of the vent was the main source of controversy. The AP reported that roughly $5.4 million was spent. This year's controversy is about Trump's decision to carry out the event as the coronavirus continues to spread in the country. The President began holding his own re-election rallies in June.
Ten lawmakers, lead by Rep. Don Beyer, have already asked Trump to cancel. "Given the current COVID-19 crisis, we believe such an event would needlessly risk the health and safety of thousands of Americans," read the note, sent to secretaries of Defense and Interior.
Updated July 2, at 12:35 p.m.: This article was updated to include C-Span's plans.