Steven Spielberg to Adapt NBC's 'Smash' for Broadway — How to Watch the Original Series
It's a big day for theater fans and especially fans of NBC series Smash as plans to turn the show into a Broadway musical have been announced.
The show's executive producer Steven Spielberg is giving the much-loved series a second life on stage in what will surely be a totally meta experience for fans.
Smash made its debut on NBC in 2011, ran for two seasons, and gained something of a small cult following.
The series followed the behind-the-scenes drama of an ambitious Broadway musical about the life of Marilyn Monroe titled Bombshell.
Debra Messing starred as Julia Houston, a writer who comes up with a musical based on the life of icon Monroe. Ivy Lynn (Megan Hilty) is initially cast as Marilyn, but is forced to deal with competition from the talented-yet-naive ensemble member Karen Cartwright (Katharine McPhee). Anjelica Huston also starred alongside Christian Borle, Jack Davenport and Uma Thurman.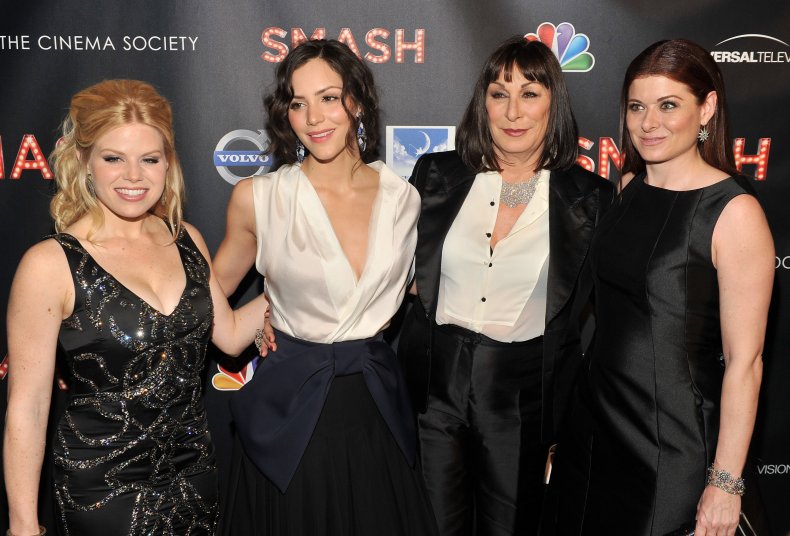 Variety reports that Smash, A New Musical will be produced by Spielberg along with WarnerMedia Entertainment chairman Robert Greenblatt, and Chicago producer Neil Meron.
Tony and Grammy-winning duo Marc Shaiman and Scott Wittman, who wrote several songs for the series, are said to be on board, and fans can expect recreations of some tracks from the show.
As in the TV series, the Broadway production will follow the efforts to stage Bombshell, the Broadway musical-within-a-musical.
The news comes following the original Smash cast's seven-year reunion via Zoom on Wednesday night during a live stream of the Bombshell in Concert event as a fundraiser for the Actors Fund.
Several of the show's cast participated in a Q&A and discussion about the making of Smash.
"Smash is one of the things I'm most proud of, the fact that we were able to bring Broadway to Middle America, to people who will never have the money to be able to travel to New York and actually sit in the theater," Messing said during the video chat.
"I'm constantly asked, especially cause I was on a reboot, 'OK? what about [Smash]?' If it's in New York, I'm in."
How to watch NBC's
Smash
online
Fans or newcomers looking to enjoy the original series ahead of the stage show can watch all 32 episodes on NBC.com.
Seasons 1 and 2 are available on the broadcaster's website if you're watching from the in the U.S.
Alternatively, both seasons are available for purchase on Amazon Prime Video elsewhere.