How to Watch, Stream Barack Obama and Joe Biden's Discussion on the Future of America
Former president Barack Obama sat down with presumptive Democratic nominee and former running mate Joe Biden in a discussion on the future of America.
In Biden's latest campaign efforts, Obama joined the former vice president in a socially distant conversation to discuss the biggest issues facing Americans today, including what Biden's pandemic response would look like.
The full conversation aired on both Obama and Biden's social media platforms Thursday, July 23.
Biden compared the way the Obama administration handled national crises such as the economic recession of 2008 to President Donald Trump's COVID-19 response.
The U.S. has become the global epicenter of coronavirus with nearly 4 million confirmed cases and over 142,000 deaths as of Wednesday, July 22, according to data from a Johns Hopkins University tracker. As of last week, more than 51.3 million Americans have filed for unemployment.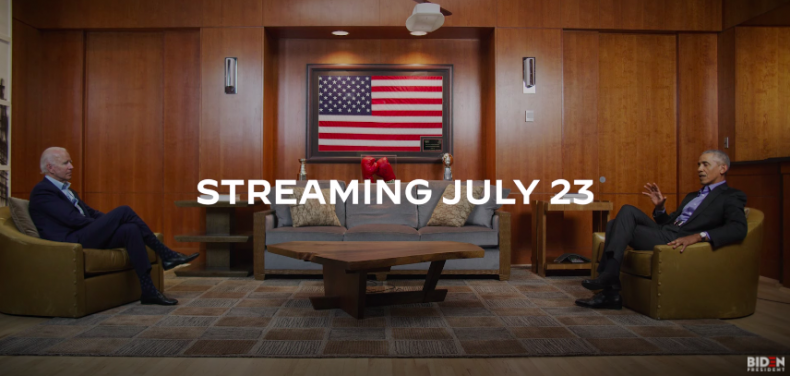 "Can you imagine standing up when you were president and saying 'it's not my responsibility. I take no responsibility. Literally. Literally," Biden asked Obama to which the former president replied, "Those words didn't come out of our mouths when we were in office."
Biden said he doesn't understand Trump's "inability to get a sense of what people are going through" with the ongoing health and economic crisis.
Obama told Biden that relatability was one of the key factors in why Obama picked him to be his second-in-command.
"If you can sit down with a family and see your own family in them and the struggles that you've gone through, or your parents went through, or your kids are going through," Obama said in the pre-taped conversation. "If you can connect those struggles to somebody else's struggles, then you're going to work hard for them. And that's always what's motivated you to get into public service."
The two leaders also discussed the recent mass protests that ignited across the nation in the wake of George Floyd's death and Biden's plans to tackle systemic racism if elected in November.
Biden's ratings in the polls has been on the rise with more Americans across the country citing disapproval over Trump's response to the pandemic and the mass protests against police brutality.
The Trump administration has pivoted the federal government's guidance over COVID-19 as infections continue to surge in hot spots like Florida and California.
On Tuesday, Trump resumed his daily coronavirus briefings after nearly three months after ending them abruptly after suggesting ingestion of disinfections as a cure for the virus. The president, who once refused to wear a mask in public, has now encouraged that all Americans wear a face mask in efforts to curb the outbreak.
Biden has yet to announced his running mate, who he has vowed will be a woman. Candidates being considered include California Senator Kamala Harris, former Georgia gubernatorial candidate Stacey Abrams, Massachusetts Senator Elizabeth Warren and Michigan Governor Gretchen Whitmer.