How to Watch Sweet 16 Games This Weekend as March Madness 2021 Continues
March Madness continues this weekend as the Sweet 16 tips off Saturday and Sunday afternoons, with four games each day. Then, there will be a pair of games on Monday and two more Tuesday to determine the Final Four of the 2021 NCAA Men's Basketball Tournament.
Three of the top regional seeds and two of the No. 2 seeds remain in contention for this year's national title, but so do four double-digit seeds.
Here are the Sweet 16 games this weekend (All times ET):
Saturday
2:40 p.m. — No. 12 Oregon State vs No. 8 Loyola Chicago (CBS, Midwest Region)
5:15 p.m. — No. 5 Villanova vs No. 1 Baylor (CBS, South Region)
7:25 p.m. — No. 15 Oral Roberts vs No. 3 Arkansas (TBS, South Region)
9:55 p.m. — No. 11 Syracuse vs No. 2 Houston (TBS, Midwest Region)
Sunday
2:10 p.m. — No. 5 Creighton vs No. 1 Gonzaga (CBS, West Region)
5:00 p.m. — No. 4 Florida State vs No. 1 Michigan (CBS, East Region)
7:15 p.m. — No. 11 UCLA vs No. 2 Alabama (TBS, East Region)
9:45 p.m. — No. 7 Oregon vs No. 6 USC (TBS, West Region)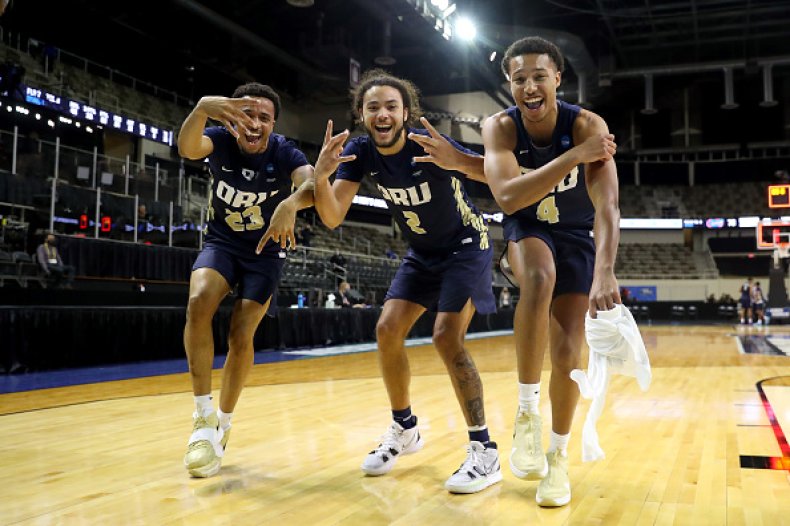 All games in the tournament are being played in Indiana, and all games from here on out will be played in Indianapolis. The Sweet 16 games on Saturday and Sunday will be at either Bankers Life Fieldhouse or Hinkle Fieldhouse. The Elite Eight games and the Final Four will all be at Lucas Oil Stadium.
Oral Roberts has been the biggest upset story of the tournament. They defeated No. 2-seeded Ohio State in the tournament's first round, becoming just the ninth No. 15 seed to ever win a tournament game. They defeated Florida in the second round and now face Arkansas, the No. 3 seed in the South region. ORU is only the second 15 seed to ever make the Sweet 16, matching the feat of Florida Gulf Coast University in 2013.
Oregon State needed to win the Pac-12 Conference tournament just to get into the NCAA tournament, and the Beavers got in as a No. 12 seed. They were just one of five teams from the conference to get into the tournament, and four of those teams still remain. Oregon State easily handled No. 5 Tennessee in the first round, and then took down No. 4 Oklahoma State in the second round. Both of those wins were by double digits.
The Beavers now face No. 8 Loyola Chicago, which knocked off No. 1 seed Illinois in the second round. The winner advances to face either No. 2 Houston or No. 11 Syracuse, which handily won over No. 6 San Diego State in the first round and then outlasted No. 3 West Virginia in the second round.
UCLA is another Pac-12 team still in contention. The Bruins were one of the last teams selected at-large into the tournament, meaning they had to play in the First Four. UCLA knocked off Michigan State to gain the No. 11 seed, and they went on to beat BYU (No. 6) and Abilene Christian (No. 14) to set up a Sweet 16 date with No. 2 Alabama.
Gonzaga and Baylor are the top two teams entering the tournament, and both remain prohibitive favorites to meet in the championship game on April 5.