How to Watch 'This Is Us' Midseason Premiere: Live Stream, Season 4 Return Date and More Show Info
Get your tissues ready. This Is Us is set to return with a new set of tears-inducing episodes.
The award-winning NBC series' Season 4 winter premiere will kick off on Tuesday night at 9 p.m. EST. Viewers without access to television can watch the show on any smart device via NBC's website and app. Fans with Hulu Live TV services can catch the midseason premiere there, although those with standard Hulu subscriptions will have to wait until the season is released on demand to watch it on the platform. YouTube Live TV customers can stream the Season 4 return episode in real time there.
The winter premiere episode, "Light and Shadows," is expected to pick up right where the show left off as the Pearson family's past intersects with the present and pushes them toward their future. A lovelorn Kevin (Justin Hartley) will continue to wallow in his romance-less life as he searches for love, while his sister Kate (Chrissy Metz) struggles with feelings of distance in her marriage to Toby (Chris Sullivan), according to the episode synopsis. Their relationship will likely get only rockier when Toby introduces Kate to his new CrossFit friends during the episode.
Meanwhile, Randall (Sterling K. Brown) will travel to Los Angeles to visit the siblings' mother, Rebecca (Mandy Moore). The experience will lead Randall down a new path in his mental health journey. "Dan Fogelman [the series' creator] and our writers came up with a storyline that I think is quite compelling," Brown told Variety in an interview released Saturday.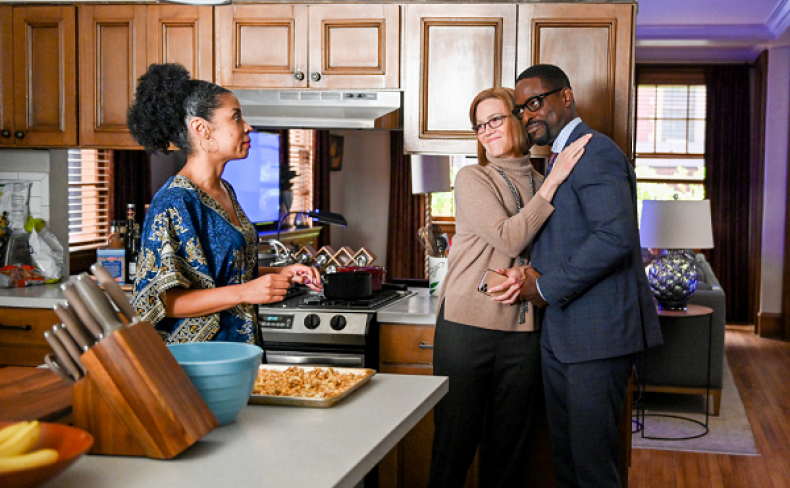 "It allows us to further delve into Randall's mental health and how he takes care of himself—what's right and what's wrong about how he takes care of himself and how he could potentially do a better job of that," Brown continued. "This moment happens where you're like, 'Oh. Oh s**t, this is going to go sideways.'"
Fogelman told Variety the premiere episode would be a "really special" one, and not just because of the special guest appearance by John Legend. He noted the winter premiere is the kickoff to another trilogy of episodes based primarily on the Big Three, as the Pearson siblings are often referred to.
All in all, Season 4 will continue to follow the Pearson family and show how "time and memory and nostalgia" can drive intimate stories about family.
"For the most part, I think we've really tried to stick to the plan for the overall show that was there from the beginning," Fogelman said. "Here and there, you make adjustments and brilliant writers come in with ideas, and that affects the timeline."