How to Watch Thursday's Republican Presidential Debate in Houston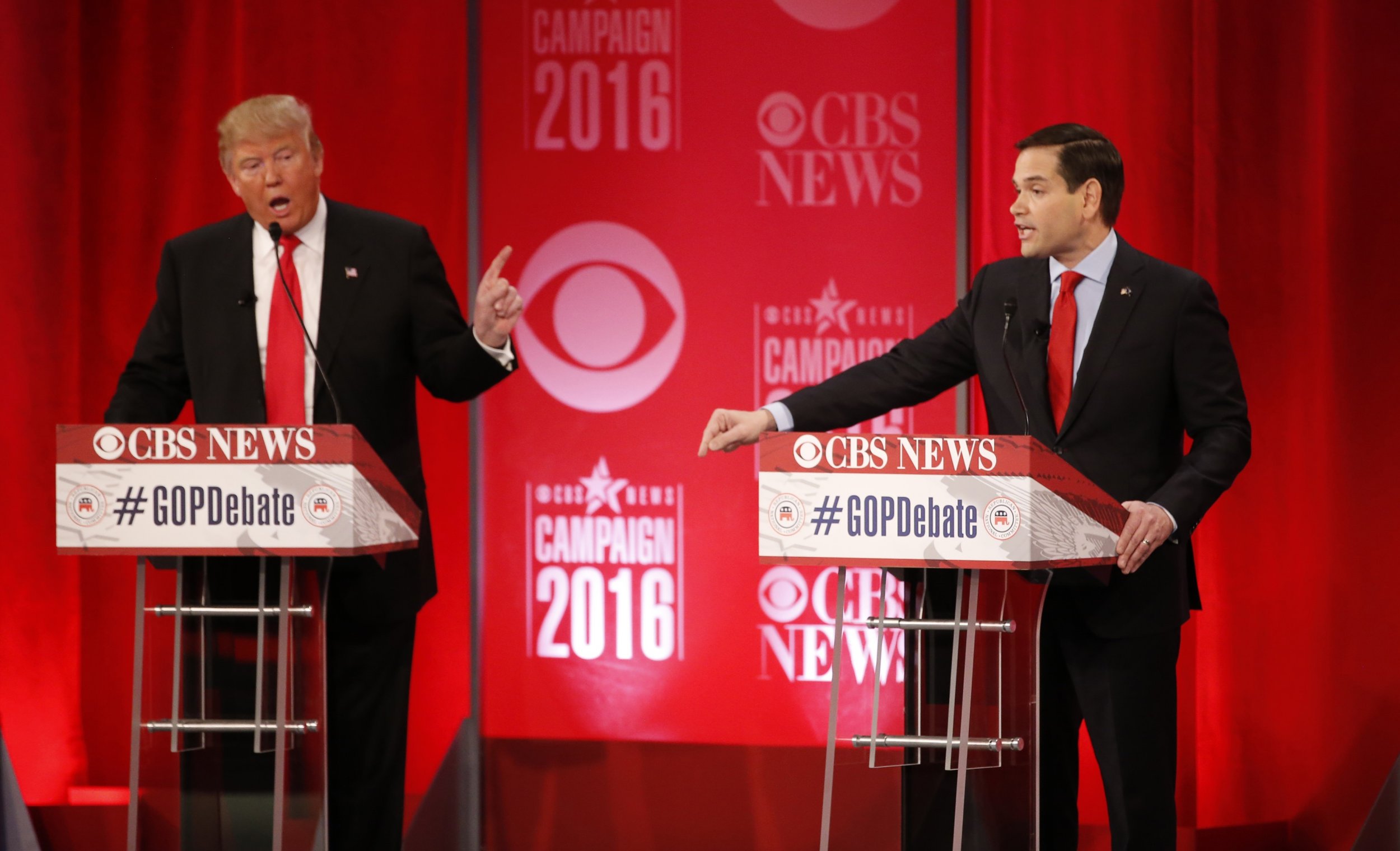 Thursday night's Republican presidential debate in Houston is the party's 10th contest—and the last before voters in a clump of states nominate candidates on Super Tuesday next week.
Front-runner Donald Trump, fresh off his wins in Nevada and South Carolina, will take the stage on the campus of the University of Houston-Moores School of Music with the four other GOP contenders. Senators Marco Rubio of Florida and Ted Cruz of Texas are in a tight battle to be the party's alternative to Trump, while Ben Carson, the retired neurosurgeon, and Ohio Governor John Kasich try to remain relevant in the race after distant finishes in the last two contests.
The debate will be co-hosted by CNN, Telemundo and Salem Radio Network beginning at 7:30 p.m. CT, 8:30 p.m. ET. Those wishing to stream the prime-time event can do so at Telemundo.com or CNNgo, as well as on the Telemundo News App or Telemundo News YouTube channel. For viewers who prefer to watch it on television, the forum will be live on CNN and Telemundo. Social media users can follow along using the hashtags #GOPDebate and #Yodecido.
CNN's Wolf Blitzer will moderate. Telemundo's Maria Celeste Arrarás will join him as a panelist. It's the only scheduled debate sanctioned by the Republican National Committee (RNC) that will be aired by a Spanish-language network.
This will be the Republicans' smallest debate yet, in the wake of former Florida Governor Jeb Bush's decision to suspend his campaign after a poor showing in the South Carolina primary last weekend.
Eleven states, including Texas, Arkansas, Massachusetts and Virginia, will hold primaries for both parties as part of Super Tuesday on March 1. Alaska will host its Republican caucuses that day. Other large primaries are slated for the middle of March and April.
A poll released Thursday just hours before the start of the debate indicated that Trump is No. 1 in Rubio's home state of Florida. Meanwhile in Texas, some local polls show Cruz leading the Republican field on his home turf. Earlier this week, he scored Texas Governor Greg Abbott's endorsement for president, a boost the junior senator needs. He came in third in Nevada, and in recent weeks, both Trump and Rubio have accused him of being a liar and his campaign of being dishonest. Cruz recently fired his main spokesman over a video that falsely showed Rubio dismissing the Bible.
Thursday's debate previously was scheduled to air on NBC News and its subsidiary, Telemundo, on February 26. But, after complaints from the party that moderators from CNBC, which is owned by NBC, asked unfair questions at the party's October 30 debate, the RNC canceled the event. When negotiations with NBC failed, the RNC replaced the network with CNN and changed the date to February 25. It will be the third time CNN has hosted a GOP debate during the current election cycle.
Two other GOP contests currently are scheduled for the remainder of the primary season, on March 3 in Detroit and on March 10 in Miami.
In the Democratic race, former Secretary of State Hillary Clinton and Vermont Senator Bernie Sanders are focused on South Carolina, where voters will cast their ballots in their party's primary on Saturday.
How to Watch Thursday's Republican Presidential Debate in Houston | U.S.