One week after endorsing J.D. Vance for U.S. Senate, Donald Trump is heading to Ohio to rally supporters.
The former president is scheduled to hold a campaign event at the Delaware County Fairgrounds on Saturday, April 23.
The event starts at 7 p.m. Eastern Time and will be live-streamed on YouTube by the Right Side Broadcasting Network.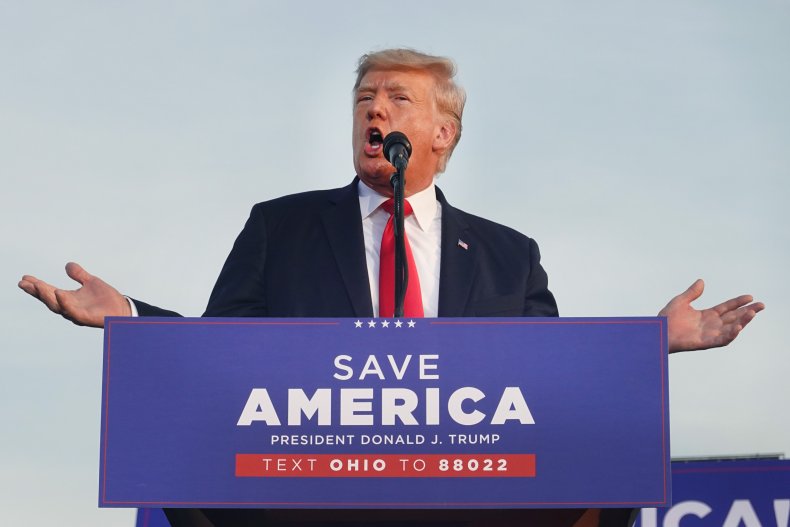 Trump publicly backed Vance on April 15, calling the Hillbilly Elegy author the "most qualified" candidate in the Republican primary field. Other high-profile conservatives running for the party's nomination are Mike Gibbons, Jane Timken and Josh Mandel. The primary will be held on May 3.
"We cannot play games," Trump wrote in a statement. "It is all about winning!"
Polls have shown that Trump's endorsement could shake up the race. A Trafalgar survey of 1,000 Ohio Republican voters found that 54.9 percent would be more likely to vote for a candidate endorsed by Trump.
The survey was conducted just before Trump's endorsement and showed Mandel in the lead with 28 percent support. Vance was in second place in the poll and garnered 22 percent support among likely GOP voters.
Vance's campaign, which launched in July 2021, suffered at times due to his past remarks about Trump. Back in 2016, Vance called Trump an "idiot" and said he was a "Never Trump" person. Vance has since said he's changed his opinion on the former president.
Some Republican groups have criticized Trump for endorsing Vance. Dozens of local Republican officials sent a letter to Trump urging him against the endorsement, citing his previous unflattering remarks about Trump and his supporters.
Trump addressed Vance's past comments in his endorsement statement, writing, "Like some others, J.D. Vance may have said some not so great things about me in the past, but he gets it now, and I have seen that in spades."
"It is time for the entire MAGA movement, the greatest in the history of our Country, to unite behind J.D.'s campaign because, unlike so many other pretenders and wannabes, he will put America First," Trump added. "In other words, J.D. Vance has my Complete and Total Endorsement. He will not let you down."
Whoever wins the Republican nomination will likely take on Democratic Representative Tim Ryan in November's general election. Ryan is the leading Democratic candidate for the party's nomination. Senator Rob Portman's retirement has opened up an opportunity for Democrats as they seek to maintain majority control in Congress during the 2022 midterms.
Before Trump arrives in Ohio, his son Donald Trump Jr. will reportedly be in the state stumping for Vance.