How to Watch Trump Texas Rally: Time, Live Stream for Former President's Conroe Rally
Former President Donald Trump is holding his second rally of 2022 in Texas on Saturday, about a week after appearing before supporters in Arizona.
Trump's ramping up his schedule ahead of the 2022 midterm elections. The former president has vowed to help candidates he endorses win their races in the hopes of Republicans retaking control of Congress, a shift that could significantly hinder President Joe Biden's ability to be an effective president in the last two years of his term.
The former president's remarks are expected to begin at 7 p.m. Central time and will be live-streamed on Newsmax. It's likely that Trump will gear his remarks toward the same topics that he addressed at his rally in Arizona a week earlier.
Speaking to a group of his supporters in Arizona, Trump continued his criticism of the 2020 presidential election, Dr. Anthony Fauci, director of the National Institute of Allergy and Infectious Diseases, and vaccine mandates. Trump also used the time on stage to take varied swipes at Biden.
A vocal critic of his successor, Trump homed in on issues with the economy and the southern border. He also went after Biden for the ongoing pandemic, mocking the president for campaigning on being the man who could get rid of COVID.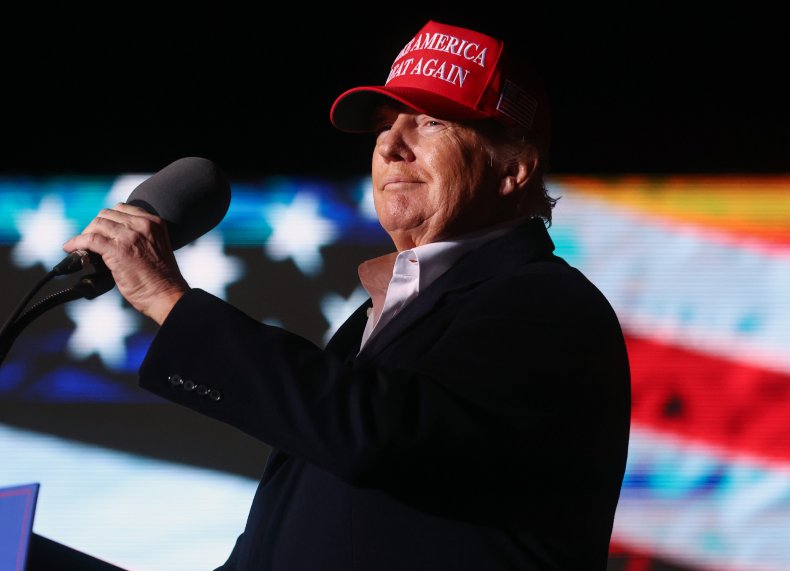 America has had more cases and deaths from COVID-19 since Biden took office than while Trump was president and Republicans are going to capitalize on the ongoing pandemic ahead of the midterms. Trump's pushed for Biden to step down because of the state of the pandemic, but the White House has denied there's any comparison between the president's handling of COVID-19 and Trump's.
Voters are losing faith in Biden's strategy for COVID-19, and he has seen a significant drop in Americans' approval of his handling of the pandemic since taking office. The pandemic dragging on through the midterms could increase Republicans' chances of winning back control of Congress because voters are likely to put the ongoing pandemic squarely on Biden's shoulders.
It's also possible Trump could discuss the Capitol riot at his rally on Saturday. He attempted to shift the narrative on the Capitol riot, insisting that it was a peaceful demonstration and the "real insurrection" occurred on November 3, 2020, the date of the presidential election.
During his rally in Arizona, Trump criticized the treatment of defendants in the Capitol riot cases, calling them "political prisoners."
Trump's rally will be the former president's second appearance in Texas on Saturday. Earlier in the day, he's expected to speak at the American Freedom Tour in Houston, an event that sold tickets for as much as $1,900. Marketed as a special guest, Trump will join several of his allies, including his son, Donald Trump Jr. and former press secretary Kayleigh McEnany, as speakers.