President Donald Trump will host a meet and greet with the Washington Nationals Monday at 1:15 p.m. EST to congratulate the team on its 2019 World Series victory.
Relief pitcher Sean Doolittle declined the invitation, according to The Washington Post, citing Trump's divisive rhetoric and mishandling of racially sensitive issues. Multiple people close to the team told the Post that a handful of players were grappling with the decision to attend.
Nevertheless, enthusiasm for the team's historic come-from-behind win seemed to transcend politics, however temporarily, on Saturday. Thousands of fans turned out for the victory parade on the streets of the U.S. capital, according to National Public Radio. It's the Nationals franchise's first World Series title—a fact not lost on Trump, who didn't cancel the meet-and-greet despite potential dropouts from players.
One fan seemed to sum up the sentiment well in a statement to NPR over the weekend. "This is awesome. I was supposed to be going up to Pennsylvania today, and I found out this was going on," J.P. Chevalier said. "It's like, forget that [laughter]. I'm staying here—blew off my girlfriend."
Trump congratulated the team on Twitter, despite the sustained boos he received from World Series fans at Nationals Park last week.
"Congratulations to the Washington Nationals on a great season and an incredible World Series. Game 7 was amazing!" he wrote at the time. Some thanked him for being more of a "class act" than Washington Nationals fans, who flooded the thread with expletives.
The team will participate in an event with Trump on the South Lawn, according to White House officials. In January, Trump served McDonald's and Wendy's fast food to the Clemson Tigers, 2018's national college football champions. He did the same earlier this year for North Dakota State University, the Football Championship Subdivision champion, and bragged that he paid for the spread out of his own pocket, according to Reuters.
White House officials did not specify whether fast food would be served to the Washington Nationals. To find out, here are the options for live streaming: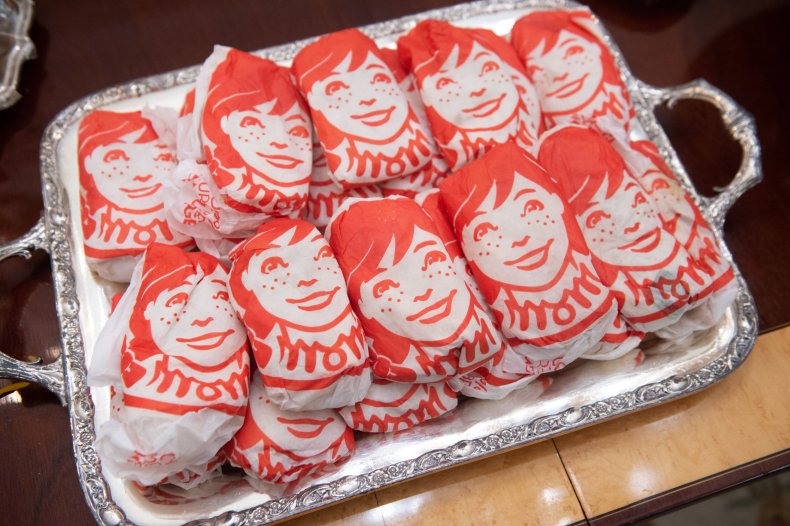 YouTube
USA Today and the White House's official channel will broadcast the event on YouTube starting at 1:30 p.m. EST. Global News goes live with its YouTube stream a bit earlier at 1:15 p.m. EST.
Online News Outlets
The Washington Post and Reuters TV are set up for live video coverage of the meet and greet at 1:15 p.m. EDT from their respective sites.
Cable
CNN has covered the team's victory and the subsequent hesitation following the White House's invitation. It may broadcast the event on your local channel. Fox News is another likely platform for the event.