Trump's Tupelo Rally Live Stream: How to Watch the President's 2020 Campaign Event
President Donald Trump will speak at a rally as part of his re-election campaign in Tupelo, Mississippi on Friday evening, starting at 8 p.m ET.
Trump is appearing in support of Lieutenant Governor Tate Reeves in his bid for the Mississippi governorship. CBS reports that Reeves has been an avid supporter of Trump, stating that he plans to "act in the same fashion" if elected. Mississippi will hold its election on November 5.
Reeves tweeted a campaign video on Wednesday that voiced his support for Trump. The video concludes, "Do you stand with our President and Tate Reeves or the Liberals and Jim Hood?"
Trump previously tweeted his support of Reeves. On Saturday, the President wrote, "Tate is Strong on Crime, tough on Illegal Immigration, and will protect your Second Amendment. " Trump also criticized Reeves' opponent State Attorney General Jim Hood. He tweeted, "Democrat Jim Hood will never give us his vote, is anti-Trump and pro-Crooked Hillary."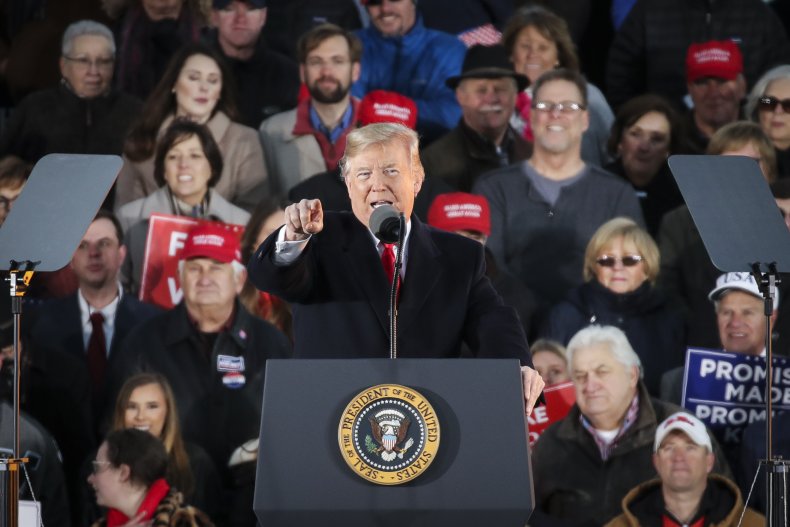 Trump received a large amount of support in Mississippi in his 2016 victory. He took all of the State's electoral votes and received a majority of popular votes. Due to his history with the state, it is likely the venue will be filled with supporters.
Here are viewing options:
C-SPAN and CBS News
Viewers can stream the rally at 7 p.m. CT on CBS News' website or C-SPAN. C-SPAN also provides complete videos of a number of previous Trump rallies, including his recent appearances in Dallas, New Mexico, Louisiana, and Minneapolis.
YouTube Channels
Trump's rallies can also be streamed on YouTube. He always stream's from the Official Trump Campaign Channel. The rally is also scheduled to be streamed by Right Side Broadcasting and Fox 10 Phoenix. Full videos of Trump Rallies can be found on YouTube also, including previous appearances in Tupelo.
Cable
As reported by Bloomberg, many cable news networks have significantly cut down on their coverage of Trump's rallies due to criticism of over exposure during the 2016 election. Small conservative network One America News will likely air the rally, as it has in the past.
In Person
Those looking to attend in person can register through Trump's official campaign website. Tickets are limited to two per mobile number per event. The rally will be held at the Bancorp South Arena at 375 E Main St. in Tupelo. The venue holds 10,000. According to WTVA, doors will open at 4 p.m. Friday. Ticket holders are not guaranteed entry, but a TV screen will also be placed outside the arena. Heavy traffic is anticipated and parking lots are expected to fill early in the day.