How to Watch U.S. Olympic Swimming Trials in 2021, Top Swimmers to Watch
USA Swimming will today begin naming athletes to Team USA for this summer's Tokyo Olympics as the U.S. Olympic Swimming Team Trials are getting underway.
The Trials, which are taking place in Omaha, Nebraska, will conclude one week from today. Some of the favorites to win their events and make the team include Katie Ledecky, Simone Manuel, Lilly King, Regan Smith, Caeleb Dressel, Ryan Murphy and Bobby Finke. There are lots of new, young faces in these Trials, and there are some old-timers like Ryan Lochte, who's now 36.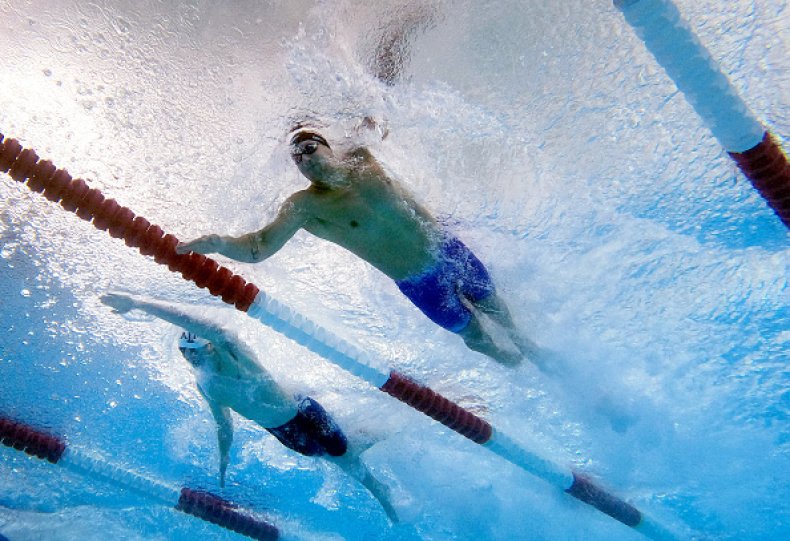 This is also the first year since 2000 that Michael Phelps won't be part of the Trials.
The Trials took place in two separate waves this year to skirt the COVID-19 pandemic. Those with slower times competed in Wave 1 from June 4-7 in Indianapolis to qualify for Wave 2, which is June 13-20.
All qualifying heats and finals will be broadcast on TV, with the morning's qualifying shown in a tape-delay each afternoon, and the finals brought live each night on NBC (sans Thursday, June 17 when they'll be on NBCSN that evening).
The pool is set up as a long course, which is 50 meters long. There are no relay races during the Trials. Members for Olympic relay teams are decided upon by the coaches at the conclusion of the Trials, based on their performances and times in individual events.
The U.S. Olympic Diving Trials are taking place in Indianapolis, Indiana, and will conclude tonight (June 13, 2021).
Here are the times and networks to watch the 2020 U.S. Olympic Swimming Trials:
All times ET only for qualifying, ET/PT for Finals
Sunday, June 13
Qualifying Heats – NBCSN, 5:30 p.m.
Men's 400m IM, Women's 100m Butterfly, Men's 400m Freestyle, Women's 400m IM, Men's 100m Breaststroke
Finals – NBC, 8 p.m.
Men's 400m IM, Men's 400m Freestyle, Women's 400m IM
Monday, June 14
Qualifying Heats – NBCSN, 6:30 p.m.
Women's 100m Backstroke, Men's 200m Freestyle, Women's 100m Breaststroke, Men's 100m Backstroke, Women's 400m Freestyle
Finals – NBC, 8 p.m.
Women's 100m Butterfly, Men's 100m Breaststroke, Women's 400m Freestyle
Tuesday, June 15
Qualifying Heats – NBCSN, 6:30 p.m.
Women's 200m Freestyle, Men's 200m Butterfly, Women's 200m IM, Women's 1,500m Freestyle
Finals – NBC, 8 p.m.
Men's 200m Freestyle, Women's 100m Backstroke, Men's 100m Backstroke, Women's 100m Breaststroke
Wednesday, June 16
Qualifying Heats – NBCSN, 6:30 p.m.
Men's 100m Freestyle, Women's 200m Butterfly, Men's 200m Breaststroke, Men's 800m Freestyle
Finals – NBC, 8 p.m.
Women's 200m Freestyle, Men's 200m Butterfly, Women's 200m IM, Women's 1500m Freestyle
Thursday, June 17
Qualifying Heats – NBCSN, 6:30 p.m.
Women's 100m Freestyle, Men's 200m Backstroke, Women's 200m Breaststroke, Men's 200m IM
Finals – NBCSN, 8 p.m.
Men's 800m Freestyle, Men's 200m Breaststroke, Women's 200m Butterfly, Men's 100m Freestyle
Friday, June 18
Qualifying Heats – NBCSN, 6 p.m.
Women's 800m Freestyle, Men's 100m Butterfly, Women's 200m Backstroke
Finals – NBC, 9 p.m.
Women's 200m Breaststroke, Men's 200m Backstroke, Men's 200m IM, Women's 100m Freestyle
Saturday, June 19
Qualifying Heats – NBCSN, 6:30 p.m.
Men's 50m Freestyle, Women's 50m Freestyle, Men's 1500m Freestyle
Finals – NBC, 9 p.m.
Men's 100m Butterfly, Women's 200m Backstroke, Women's 800m Freestyle
Sunday, June 20
Finals – NBC, 8:15 p.m.
Men's 50m Freestyle, Women's 50m Freestyle, Men's 1500m Freestyle
---
Top Women's seeds (and qualifying times)
50 free—Simone Manuel, 24.05
100 free—Simone Manuel, 52.04
200 free—Katie Ledecky, 1:54.40
400 free—Katie Ledecky, 3:59.25
800 free—Katie Ledecky, 8:10.70
1500 free—Katie Ledecky, 15:29.51
100 back—Regan Smith, 57.57
200 back—Regan Smith, 2:03.35
100 breast—Lilly King, 1:04.93
200 breast—Annie Lazor, 2:20.77
100 fly—Claire Curzan, 56.20
200 fly—Hali Flickinger, 2:05.96
200 IM—Madisyn Cox, 2:08.51
400 IM—Melanie Margalis, 4:32.53
Top Men's seeds (and qualifying times)
50 free—Caeleb Dressel, 21.04
100 free—Caeleb Dressel, 46.96
200 free—Andrew Seliskar, 1:45.71
400 free—Zane Grothe, 3:45.78
800 free—Bobby Finke, 7:47.58
1500 free—Bobby Finke, 14:51.15
100 back—Ryan Murphy, 52.44
200 back—Ryan Murphy, 1:54.12
100 breast—Andrew Wilson, 58.93
200 breast—Will Licon, 2:07.62
100 fly—Caeleb Dressel, 49.50
200 fly—Luca Urlando, 1:53.84
200 IM—Chase Kalisz, 1:56.78
400 IM—Jay Litherland, 4:09.22