After what felt like an eternity of waiting, Week 1 of the 2023 NFL season is already in the books. Now, the action comes thick and fast, with the preparation for the next game already underway.
No matter how things are going, that presents an opportunity. If a team won its previous engagement, like the Philadelphia Eagles did, a new week is a chance to keep the ball rolling and build some momentum. For those coming off a loss, like the Minnesota Vikings, you can get right back on the horse and right the previous wrongs.
But what will happen when those two teams face off in the City of Brotherly Love? Will the early trends hold true? Or will there be an upset on the cards?
Let's break down the Vikings vs. Eagles contest and try to get to the bottom of that.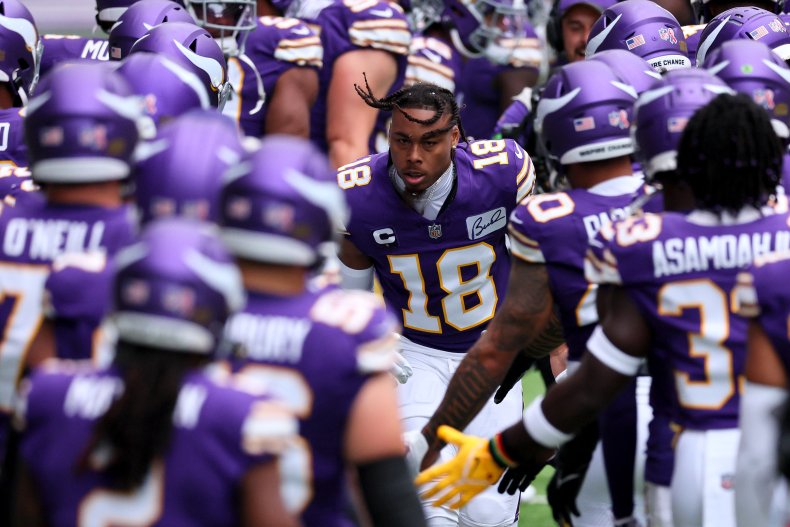 How to watch Vikings vs. Eagles
While Sunday is the day most commonly associated with pro football, the NFL has branched out. Monday night is a key part of the schedule, and, more recently, Thursday night games have entered the mix. That latter window is where you'll find the Minnesota-Philadelphia game.
The Vikings and the Eagles will take the field in Philly at 8:15 p.m. ET on Thursday, September 14. The action won't be on national television; instead, you can catch it streaming on Prime Video.
And if you aren't able to stream the game, you can go old school and listen to it on the radio. Beyond local broadcasts—found on KFAN 100.3-FM in Minnesota and 94WIP in Philadelphia—the audio action is also carried nationally by Westwood One.
The Vikings need to prove Week 1 wasn't the norm
Last season, the Vikings topped the NFC North with a 13-4 record. Their opening stanza of the 2023 campaign, however, didn't bode well for their hopes of an encore performance.
Facing a Tampa Bay team with Baker Mayfield, not Tom Brady, under center, Minnesota wilted. Justin Jefferson pulled his weight, hauling in nine catches for 150 yards, but things dropped off after that. Kirk Cousins threw for 344 yards and two touchdowns but tossed an interception and lost two fumbles; the Vikings ground game also failed to make an impact without Dalvin Cook, only recording 41 yards.
Last season, the NFC North champs always seemed to find a way to escape from close games with a victory. In Week 1, though, they couldn't seal the deal.
And while any team can have a bad week, the modern NFL is highly competitive, especially if you're trying to top your division. There isn't room for playoff teams to be struggling multiple weeks into the season.
Facing the defending conference champions is a tough ask, especially on short rest, but the Vikings will need to put in an improved performance. If they start the year 0-2 and don't play particularly well in either contest, thing walls could start to close in.
The Eagles will want to build on Week 1's foundation
As Al Davis famously said, "Just win, baby." By that metric, it's tough to take much issue with the Eagles' performance on Sunday. They headed north to New England, handled an emotional occasion, and left town with the W.
That's not to say that things were perfect, though.
Jalen Hurts, the metaphorical straw that stirs Philly's drink, didn't have his best game; he threw for 170 yards and one touchdown but lost a fumble in the fourth quarter. The Eagles' rushing attack was also limited to 97 yards. The new-look defense did allow the Patriots to pile up 382 yards of offense and climb back into the game, but the unit held strong and accounted for a touchdown on the day.
"Was it our cleanest opportunity? No. We've got a lot of things to clean up," head coach Nick Sirianni said. "We didn't finish some drives late in the game."
That's what the NFC East club will be focused on moving forward. Winning can cover up plenty of issues, but the Eagles are aiming for a Lombardi Trophy. At a certain point, both performances and results have to be there.
And facing a Vikings team that struggled in Week 1 could be the perfect opportunity to work out the kinks.
Betting line, Over/Under for Vikings vs. Eagles
While one week of games isn't a large sample size, the opening matchups suggest that the Philadelphia Eagles are in a better place than the Minnesota Vikings. The oddsmakers seem to agree with that assessment.
As of Monday, September 11, FanDuel Sportsbook lists Philly as a seven-point favorite. The Over/Under is also set at 48.5 points.
Uncommon Knowledge
Newsweek is committed to challenging conventional wisdom and finding connections in the search for common ground.
Newsweek is committed to challenging conventional wisdom and finding connections in the search for common ground.
About the writer
Joe Kozlowski is a Newsweek reporter based in New York City. His focus is reporting on trending sports stories. Joe joined Newsweek in 2023. He is a graduate of NYU's Gallatin School of Individualized Study. You can get in touch with Joe by emailing j.kozlowski@newsweek.com.
Languages: English.