How to Watch 'The Voice' Season 17 Premiere: Live Stream, Channel, Air Date and More Info
It's been four months since singer Maelyn Jamron was named the Season 16 champion of The Voice, and now a few new hopefuls will take their shot at winning the title.
The NBC singing competition's 17th season kicks off on Monday with the first night of blind auditions starting at 8 p.m. ET. The second night of auditions will air on the network at the same time on Tuesday. Both episodes will be available for viewing via live stream on NBC's website and app, although users will need a cable provider login to access the stream. Those with Hulu Live TV will also be able to live stream the premiere episodes through their subscriptions.
Last season judges Blake Shelton, Kelly Clarkson and John Legend are all set to return to their iconic red swivel chairs for Season 17 along with Gwen Stefani, who hasn't appeared as a judge on the show since Season 12. Original judge Adam Levine will be a notable absence on the new season of The Voice. His departure was announced in May.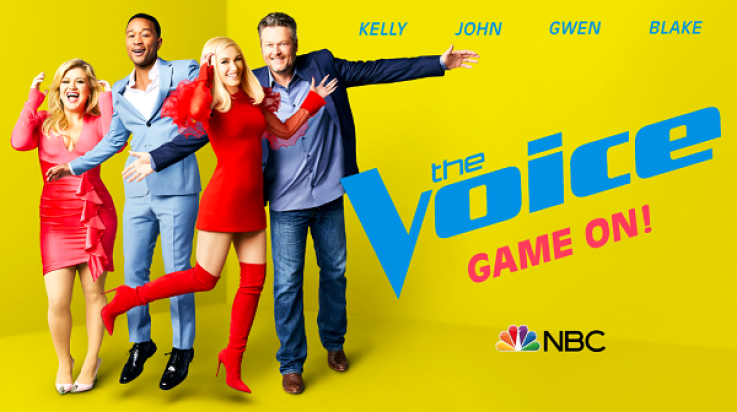 Despite Levine's absence, the show will include much of the same fun and competitive excitement The Voice fans love. During the blind auditions, judges will choose contestants for their teams and hopefully coach one of them to the winner's circle.
The new season is expected to feature a particularly dazzling troupe of talented individuals, and judges will reportedly find themselves facing off over contestants long before the singers battle it out on stage for fan votes later in the fall.
"The talent's wonderful. There are a lot of four-chair turns," executive producer Audrey Morrissey recently told Parade.
Competitors will get some extra special grooming during Season 17, too. While artists like Normani, will.i.am, Darius Rucker and Usher will serve as Battle Advisors to Clarkson, Stefani, Shelton and Legend respectively, Taylor Swift joins the show as a mentor to contestants.
Country music star Shelton was particularly excited for all the guidance Swift will offer singers throughout the season.
"A lot of people don't realize, I raised Taylor Swift in the country music world, and she knows it," Shelton said during an interview with Entertainment Tonight, released Friday. "She did great, though, as a mentor and she did it the first time and then coming back in this second time, it's like she's made for that. She's super smart, and she's really good at looking at somebody's performance and listening to them and being able to go, 'I know a couple things here that instantly, I think, we can tweak on, and it will take it to the next level.' She's really good at that."
Swift first served as a Mega Mentor back on Season 7 of The Voice.
How to Watch 'The Voice' Season 17 Premiere: Live Stream, Channel, Air Date and More Info | Culture